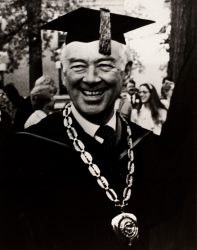 Wilbur C. Miller, Drake University's ninth president, died yesterday at the age of 94.
Miller was a proud Drake alumnus and a visionary leader who made an important impact on Drake's history during his 13 years as president (1972 to 1985). Many of campus' most prominent landmarks—The Harmon Fine Arts Center, Olmsted Center, Olin Hall of Biological Science, Cartwright Hall, the Bell Center, and Aliber Hall—were built under his leadership, and Howard Hall underwent renovations.
The transformation was so significant that students who attended Drake before Miller was hired would have a hard time recognizing the campus after he retired.
"We were in old houses," he told Drake Blue magazine [PDF] in a 1985 article. "We were in Cole Hall. The English Department was scattered all over … One thing that's happened [during my time as president], without a question, is that we've made Drake a campus, and I think a reasonably attractive campus."
Miller was also a strong supporter of initiatives that strengthened the link between Drake and Des Moines.
"Much of the school's support comes from local people," he told the Times-Delphic [PDF] in 1978. "There is a lot of support for Drake among Des Moines residents. Just look at the number of people we employ, the number of people we bring in for meetings, the Drake Relays, and other events that fill hotel rooms and restaurants."
Miller graduated from East High School. He attended Drake from 1941 to 1943 and St. Louis University from 1943 to 1944. He served in the U.S. Army from 1943 to 1946. He then moved to Denver Colo., where he would spend 26 years at the University of Denver. He was awarded his B.S. degree in business administration in 1948, M.A. degree in psychology in 1949 and Ph.D. in experimental psychology in 1953, all from the University of Denver. As a Senior Stipend Fellow of the National Institute of Mental Health, he did post-doctoral work at the University of Michigan from 1963 to 1964.
In 1949 he began his teaching career as psychology instructor at the University of Denver. He was appointed assistant professor, associate professor, and then full professor of psychology. He also served as dean of the graduate school, vice chancellor of academic affairs, dean of faculty, and acting chancellor before leaving the University in 1967.
Miller served as a consultant for the Danforth Foundation, Ford Foundation in Venezuela, and the United States Air Force Academy. From 1960 to 1971, he was co-director of the Research Project in Maladaptive Behavior at the University of Colorado's Medical Center in Denver.
His many honors include the Drake University Alumni Distinguished Service Award in 1974; the University of Denver's highest alumni award, the Evans Medal; the Distinguished Service Award of the Colorado Psychological Association; and the Danforth Foundation Special Grant for Administrators; and an honorary doctor of laws from the University of Denver.
He was a fellow in the American Psychological Association, a member and past president of the Colorado Psychological Association, and a member and past president of the Rocky Mountain Psychological Association. While at Drake, he served as a member of the boards of directors of Norwest Bank Des Moines N.A., Financial Security Group, Greater Des Moines Committee, Norwest Corporation, and Cowles Broadcasting, Inc. He served as chairman of the Iowa Association of Private Colleges and Universities from 1976 to 1977.
Wilbur is survived by his son, W. Kent (Kathy) Miller of Urbandale, IA; daughter, Dr. Jill M. (Thomas Williams) Miller of Washington, DC. He was preceded in death by his wife, Viretta (Shaw) Miller; parents; and brother, Wayne Miller.
The Miller family will host a private memorial service. Memorial gifts may be made to Drake University at alumni.drake.edu/give. Visitors to that website may also leave a note in the "Gift in Memory of" section in memory of Wilbur C. Miller. More information about Miller can be found on the Iles Funeral Home website.
Drake University Presidents
George Thomas Carpenter*
Born: March 4, 1834 in Nelson County, Kentucky
President: 1881-1882
Chancellor: 1882-1893
Barton O. Aylesworth*
Born: September 5, 1860 in Athens, Menard County, Illinois
Acting Chancellor: 1894-1897
William Bayard Craig*
Born: December 7, 1846 in St. John, New Brunswick
Chancellor: 1897-1902
Hill McClelland Bell* (Drake Graduate)
Born: June 19, 1860 in Licking County, Ohio
Vice Chancellor: 1902-1903
President 1903-1918
President Emeritus: 1918-1927
Arthur Holmes
Born: May 5, 1872 in Cincinnati, Ohio
President: 1918-1923
Daniel Walter Morehouse (Drake Graduate)
Born: February 22, 1876 in Mankato, Minnesota
Acting President: 1922-1923
President: 1923-1941
Henry Gadd Harmon
Born: June 14, 1901 in St. Paul, Minnesota
President: 1941-1964
Paul Frederick Sharp*
Born: January 19, 1918 in Kirksville, Missouri
President: 1966-1971
Wilbur C. Miller
Born: August 26, 1923 in Des Moines, Iowa
President: 1972-1985
Michael Ferrari
President: 1985-1998
Robert D. Ray*
President: 1998-1998
David Maxwell
Born: December 2, 1944 in New York, New York
President: 1998-2015
President Emeritus: 2015-Present
Earl F. Martin
Born: December 16, 1961 in Lexington, Kentucky
President: July 2015-present
*Honorary doctorates