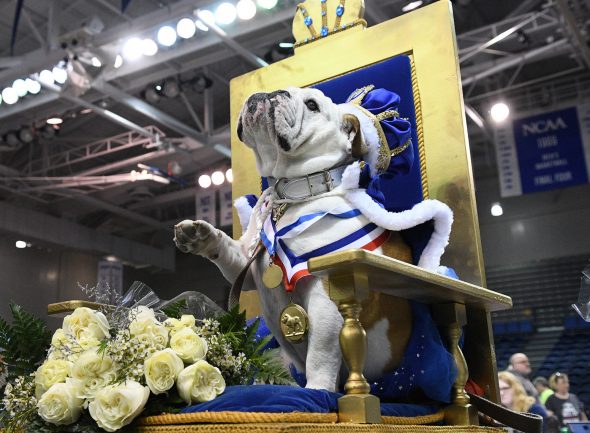 As the world's top athletes limber up for the Drake Relays presented by Hy-Vee, another set of far less agile competitors are preparing for their own chance at fame and glory.
Forty English Bulldogs from across the country will compete in the world-famous 39th annual Beautiful Bulldog Contest on Sunday, April 22 in Drake University's Knapp Center. The winner will be crowned the 2018 Drake Relays mascot and assume the throne as Most Beautiful Bulldog.
The prep for these pups and their parents is less physically demanding than the warm-ups endured by their track and field counterparts, who take to Drake's famous Blue Oval the following weekend. But these pooches will need to practice their pageant walk (or waddle) if they hope to wow the esteemed panel of judges.
"Bulldogs are a ridiculously beautiful breed to begin with, and this year's contestants are the best of the best," said contest director Niki Smith. "These are the wrinkliest, cuddliest, most adorable—sometimes most boisterous and drooliest—canines the world has to offer." 
Festivities begin at noon with the Rescue Dog Festival on the upper track of the Knapp Center. The pageant starts at 1 p.m., with each bulldog strutting their stuff down the runway.
Only one contestant will walk away crowned the 2018 Most Beautiful Bulldog, but a number of other awards will be given out, including "Best Dressed," "Congeniality," "Rescue Dog Recognition," "Porterhouse People's Choice," and first and second runner up.
The Judges
This year's distinguished judges panel includes:
Chelsea Dubczak, Drake alumna and 2017 Miss Iowa
Jay Byers, CEO of the Greater Des Moines Partnership
Dolph Pulliam, longtime Drake staff member, alumnus, and former director of the Beautiful Bulldog Contest
Ed Wilson, chief meteorologist for WHO TV Channel 13 news and proud parent of two current Drake students.
The Contestants
This year's 40 competing bulldogs and 10 alternates have large resumes, grand expectations, and hail from nine different states. Among them are:
Benny: a first-time contest competitor who loves attention and Netflix. But he's even more passionate about avoiding his dislikes, including glares and the sound of basketball games, according to owners Megan and Michael Van Heiden of Ankeny.
Blu: recently adopted from a shelter, he's made himself at home with his new family and his community after the launch of his own Facebook page, according to owner Josh Ehn of Waterloo.
Clovis: a born adventurer, he loves the outdoors—and even more surprising, he loves walks. (Unsurprisingly, he loves licking "everything and everyone," said owner Leigh Mihlrad of Arlington, Virginia.)
Sweet Sassy Molassy: a four-year-old Beautiful Bulldog veteran who loves Starbucks Puppuccinos and has never lost a race up the stairs. She's "one-in-a-million," says owner Janalyn Phillips of Waukee.
Griff Gives Back
Drake's live mascot, Griff, will be in attendance at the contest, eagerly awaiting the crowning of a new Most Beautiful Bulldog and a new friend to pal around with during Relays.
Griff is hosting a pet food drive, Griff Gives Back, in celebration of the contest. Adult pet food donations directly benefit The Pet Project Midwest.
Griff's goal is 6,000 pounds, and donations will be accepted until the conclusion of the event on April 22. Everyone who makes a donation at the contest will be entered to win a $50 Target gift card. Donations are also accepted by mail or in Drake's Olmsted Center.
The Beautiful Bulldog Contest is free and open to the public, and doors open at 11 a.m. The pageant will be livestreamed on the Beautiful Bulldog Contest at Drake University Facebook page for those unable to attend the event.