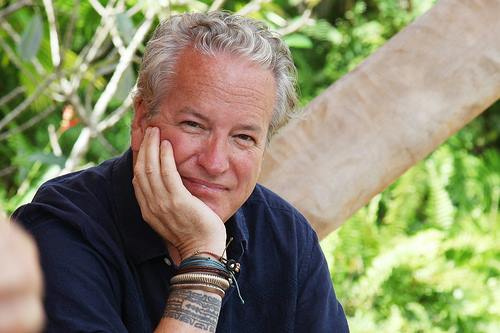 "I believe media makes a difference. Film is a powerful medium—it influences the way people see the world."
— Jon Bowermaster, BN'76
Jon Bowermaster, JO'76, has had a successful career as an adventure journalist, filmmaker/producer, and environmental activist.
He worked for National Geographic as an adventure writer from 1989 to 2008. His first story for National Geographic magazine was a dog-sled expedition across that Antarctica that took 221 days. He is a six-time grantee of the National Geographic Expeditions Council, and out of that came his Oceans 8 project where he visited every ocean by kayak and reported on man's relationship with water. Out of that came long-form magazine articles, films and two books.
We caught up with Jon to discuss his work, his time at Drake, and the future of journalism ahead of a public lecture he'll give at Drake next week—"From Journalism to Advocacy: 30 Years Reporting on the Planet's Health," scheduled at 7 p.m. Wednesday, April 11, in Meredith Hall 101. The lecture is sponsored by the Principal Center for Global Citizenship, and is free and open to the public.
You've worked on such a diversity of projects—including over 15 documentaries and a dozen books on environmental activism, issues, and policy. What drives and motivates you?
I've always been such a fan of long-form journalism and storytelling. I started out as a magazine and book writer for that reason … I believe media makes a difference. Film is a powerful medium — it influences the way people see the world. Some people can change the world through modern medicine and through policy. Storytelling is the tool I have.
You have been working on the "Hudson River Stories" for over three years now; what prompted that project and what passion has it instilled in you over the course of filming?
In many ways, the Hudson River is the birthplace of the environmental movement. Some call it 'America's first river.' I knew that my Oceans 8 expeditions project would lead me here to cover stories in a matter of time. Three years ago we started out making short films about The Hudson River and now some of our longest are around 25 minutes. The Hudson River stories project has over 20 films produced in its three-year making, and we continue to produce new content.
What are your other current projects?
I recently produced a feature film called "Ghost Fleet," which is about the global plight of fishing slaves. I was made aware of the issue from my travels around the world and have been interviewing escaped slaves and the people who risk their lives to help them. It's five years in the making and will hopefully be out over the summer. I have partnered with Shannon Service who reported on this issue for NPR's Morning Edition.
What skills do you believe young journalists need to be successful in the film or media industries?
Good reporting is first. And you have to have perspective on the global level. I have reported in 90 countries and filmed on every continent. It is so helpful to see the world if you want to be a successful journalist. It's the small things, like understanding the culture you are writing about, and smelling the surroundings. Interviews are also important. Find the right sources and talk to them, multiple times. It often takes a few meetings to get the whole story.
I would suggest that people studying journalism find something else they are passionate about, outside of reporting, and learn everything about it. Whether it is a subject, an issue, or a phenomenon, learn it and be an expert reporter in it.
"At Drake, I came in as a journalism major, and it was a great time to learn about the industry… Bob Woodward and Carl Bernstein were heroes if you wanted to be a journalist."
How did Drake help prepare you for your career in journalism?
I never studied science or biology in school. My environmental interest came later. At Drake, I came in as a journalism major, and it was a great time to learn about the industry… it was the height of Watergate. Bob Woodward and Carl Bernstein were heroes if you wanted to be a journalist. I consider my writing style to be a cross of Hunter S. Thompson and Bob Woodward.
What do you hope for the future – the future of both journalism and the environment?
As journalists, we need to look for new ways to tell old stories. The last thing this world needs is another 90-minute documentary about climate change being an issue. What we need is a creative twist on stories that have been told because the issues that fuel them continue to exist.
An effective way to target these stories is to get them in front of people who aren't already in the choir. Instead of writing a story on the environment with a health and science angle, we craft it so people see its influences on the economy and profits. We need to get the stories in front of people who don't yet see the need for change.
What's next for you?
I may go back to writing books. I love filmmaking, but it's very time intensive, involves a lot of travel, requires a team, and money to pay said team. Books are more up to me. I wonder if people will continue to read books, but I think there's hope.