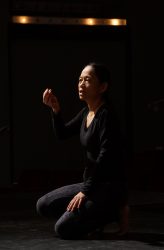 Assistant Professor Mirla Criste makes her directorial debut at Drake University this week with a 2,000-year-old play that transcends its age through immediate social and political relevance.
With The Trojan Women, which opens April 5, the Drake Theatre department tells the story of atrocities committed by Greek men against the women of a recently conquered Troy. Criste selected the play last year, and has since found it to be a timely addition to the national conversation about sexual assault and sexual harassment.
"I'm one of those directors who likes to find something about the play that's relevant to today, to society, that contains something significant to explore either about life now or the human condition in general," said Criste, who joined the Drake faculty in fall 2017. "That's what theatre really does; it's an investigation into the human condition."
Transcendence is at the heart of what motivates Criste as an educator and artist. Born in the Phillippines, she moved to the United States before the age of 10. A career in professional film, television, concert dance, and both dramatic and musical stage, has allowed her to live and work in half a dozen states—as writer, director, choreographer, designer, and composer.
Now at Drake, she shares that wealth of experience with students, and she says they respond in the best way possible—by rising to do justice to an enduring story.
"It's fantastic when your students can transcend you, transcend the work, transcend your teaching," Criste said. "It's the best thing to know that what you offered them has helped them grow. That's been a lot of fun to see how far my students have taken the work that we're doing together."
Criste earned a Bachelor of Arts from Oberlin College, where she majored in theatre and minored in dance, and a Master of Fine Arts in Drama (Performance) from the University of California-Irvine. Her expertise includes a number of diverse dance and movement vocabularies, as well as speaking and singing vocabularies.
Criste feels strongly that at Drake, she can focus on sharing her experience and perspectives—and that she enjoys learning from students as well. Together, they'll discover new talents and uncover renewed relevance of classic works of art.
"The students are so capable and willing to dive into everything," she said. "There's no hesitancy, and I love that."
The Trojan Women runs April 5-8. Performances are at 7:30 p.m. Thursday through Saturday and 2 p.m. on Sunday. Tickets are $10 (or $8 with a Drake ID) and are available via the Drake Fine Arts box office, online, in-person, or by phone at 515-271-3841.