Welcome back, Mallory!
Dean's assistant Mallory Quinn has returned from maternity leave. Stop by Mer. 119 and welcome her back to Meredith Hall.
SJMC students nominated for Emmys
Two SJMC students have been nominated for awards in the Upper Midwest Regional Student Television Awards of the National Academy of Television Arts & Sciences. Sam Fathallah was nominated in the Commercial category, and Anna Steenson was nominated in the Animation and Director categories. The winners will be announced at the annual awards ceremony on April 13.
Podcast Party is today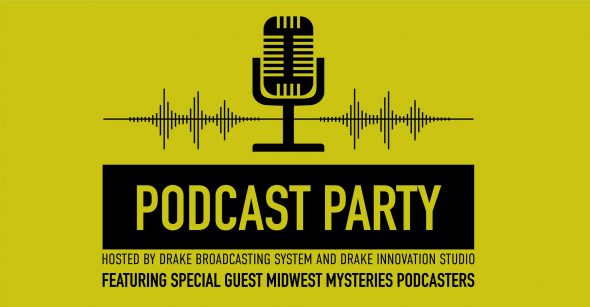 Interested in learning more about podcasting? Join Drake Broadcasting System in the Innovation Studio (Meredith 124C) from 4-6 p.m. March 19 for a Podcast Party. You can meet the students behind the podcast Midwest Mysteries, learn about podcasting equipment available in Meredith Hall and be involved in a podcast being recorded at the event. Pizza will be served, so get there early. RSVP on Facebook.
What internship employers expect
All students are welcome to attend the JMC 40 professional panel tonight, March 19, 6-7:15 p.m. in Mer. 101, on what employers expect of their interns. Networking will be available following the event. Participants are:
Erin Moynihan, Executive Producer, KCCI-TV

Dawn Buzynski, Executive Director of Public Relations, Strategic America

Cory Kelly, Communications Director, Iowa Workforce Development

Kerri Sorrell, Communications Specialist, Iowa Natural Heritage Foundation

June Owens, Iowa Democratic Party and U.S. Black Women's Chamber of Commerce
Ethics symposium to feature prominent journalists
The 2018 Baum Symposium on Ethics and the Professions will be held this week: Thursday, March 22, through Saturday, March 24. The topic of this year's symposium is "A Moral Political Vision in a Polarized Nation." It will feature a variety of guest speakers, prominent panelists and workshop leaders from a variety of professions, including many journalists. The kick-off keynote speaker on Thursday night at 7:30 p.m. in Sheslow Auditorium is New York Times columnist Charles Blow. The symposium events are free and open to the public, but please register here: https://baumsymposium4ethics.wp.drake.edu/register-for-the-symposium/.
Get ready for registration
Registration for summer, fall and January Term classes starts April 2 and ends April 11. Make an appointment now with your adviser or advisers to ensure that you are on track for graduation. 
If you are making changes in your field of study (adding or dropping a major or minor, for example), you must do so by March 26 using the Change of Record Form available here.
The registration schedule is posted here. Students register in the order of credits completed, not counting this semester. Those with the most credits register first; those with the fewest register last. The schedule of fall 2018 classes is available on BlueView.
Please come to your advising appointment with:
A completed checksheet for your major (available here)
A completed "SJMC Remaining to Graduate" form
A copy of your audit (electronic or printed)
A draft of your fall schedule, with alternatives
Before you meet with your adviser:
Log into blueView to make sure you have access and know your username and password. If you have trouble, call the help desk at x3001.
Clear up any holds on your registration.
Read through and update the checksheet for your major. Fill it out and bring it to your appointment. If you haven't declared a major, pick any checksheet. Most of the requirements the first two years overlap.
Check your curriculum audit. It's available through MyDusis. There is a link from the student menu to "Degree Audit." The audit will show what requirements you've completed and what you still need to complete.
Check the Fall 2018 schedule, available on BlueView.
Read the course descriptions in the online catalog to check prerequisites for courses you're interested in.
If you're following the Drake Curriculum (rather than Honors track), look up the Areas of Inquiry course lists.
Bring a rough schedule to your adviser meeting. List specific classes and alternatives.
Questions? Contact your adviser or Mallory Quinn (mallory.quinn@drake.edu) or Mer. 119.
New process for transfer credits
Students must have transfer credits approved by the Registrar's Office before they will be posted to transcripts and degree audits.  Transfer credits can be reviewed by completing the Transfer Credit Request Form.  Once the form has been submitted, a student's request will be reviewed and they will be notified of how the credits will transfer in to Drake.  Transfer credits will not post to a student's transcripts unless this form has been completed.  It is recommended the form be completed prior to registering for a class at another institution, so students can make the best use of their time and money.
There are several transfer credit tools available on the Transfer Credit Information section of the Registrar's website.  These tools can help students look for courses to take at other U.S. institutions. 
SJMC students, alums honored by AAF
Drake SJMC alumni and students were honored last month at the annual American Advertising Federation of Des Moines contest. 
Caleb Bailey, JO'10, was named Ad Pro of the Year and Hope Waggoner, JO'16, won Rookie of the Year.
Advertising senior Sam Fathallah won two gold awards in the professional video category.
SJMC students Juan Munoz Dominguez, Autumn Meyer and Megan Rush won a gold award in the student video category. 
Kayla Ferris won a silver award in the mobile app category.
Be a PR Star!
Public Relations and Strategic Political Communication majors, would you like to be recognized as a PR Star? Take advantage of the opportunity to showcase your on-camera PR skills when you enter the 2018 PR Star Championships! If you receive the most votes — from your peers, professionals, and faculty — as the PR Star champion, you'll receive a prize (gift card), a plaque, and recognition in Meredith as the 2018 winner. 
WHAT: PR Star is an on-camera public relations competition where you can put your skills of thinking on your feet, communicating effectively, representing a client, and message development to good use in a double-elimination tournament with online video voting.
There will be four rounds: 
Round 1 (Sweet Sixteen) —

 Competitors will receive a brief prepared statement 1 day before competition. Competitors will be expected to present this statement on-camera. 

Round 2 (Elite Eight)

— Competitors will receive talking points 1 day before competition. Competitors will be expected to provide an effective statement on-camera based on these talking points. 

Round 3 (Final Four)

— Competitors will receive a situation the night before competition. They will be expected to provide an effective statement, with well-developed key messages, on-camera based on this situation.

Round 4 (Championship)

— The final two competitors will receive a situation summary 30 minutes before competition. They will be required to give an effective statement, with well-developed key messages, on-camera based on the situation, and answer reporter questions on-camera. 
WHEN: Signups began March 7 in Prof. Konfrst's office (Mer. 110), and the tournament will take place March 26–April 9. Signups are first-come, first-served. 
WHO: The PR Star program is open to PR and SPC majors, though online voting is open to anyone. 
Student Ambassador applications due March 26
Applications for students to serve as admissions ambassadors are due on Monday, March 26. Drake Admissions is looking to attract student who represent the ethnic, religious, geographic and cultural diversity of the student body. An overview of the ambassador program, the application and recommendation form can be found at: http://tiny.cc/DUAmbassadorInfo.
To be eligible, Drake students must be:
Full-time standing

Sophomore level or older in fall 2018

Have a minimum cum GPA of 2.75,

Be eager and committed to represent Drake

Complete the application and have two recommendations submitted by March 26
All candidates will participate in a 25-minute small-group initial interviews the week of April 2 or April 9 and final interviews will take place the weeks of April 16-25.  Eight to 10 new ambassadors will be hired.
Annual student awards reception April 19
Put it on your calendar: The annual SJMC student awards reception, which recognizes student scholarships and achievements, will be Thursday, April 19, 4-6 p.m. in Levitt Hall of Old Main.
Weekly academic help offered
Academic Achievement Seminars will be held every Wednesday, Feb. 28-May 2, 6-7 p.m. in Cowles Library, 201. Get individualized attention to help build the skills for academic success.
Have a news item for the Memo?
The SJMC Monday Memo is a weekly newsletter to keep members of the wider SJMC community updated on School news, achievements, events and opportunities. If you have an item for the Memo, please send it to Dean Kathleen Richardson (kathleen.richardson@drake.edu) or SJMC webmaster and multimedia professor Chris Snider (christopher.snider@drake.edu). SJMC alums and other professionals can also contact Chris to have the Memo delivered via weekly email.
The School of Journalism and Mass Communication strives to create a community of scholars that represents the complexity of the human experience in regards to race, ethnicity, sex, sexual orientation, economic status, gender identification, religion, age and physical abilities. We are committed to creating a welcoming and supportive environment for all our faculty, staff, students and visitors, and celebrating our differences through the lens of the First Amendment value of freedom of expression.