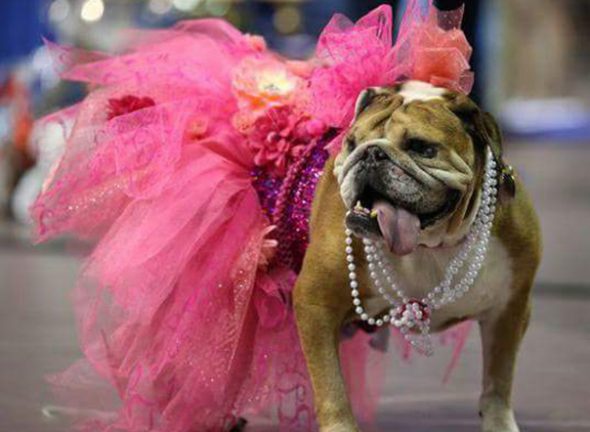 One week after Drake University announced that it has received a record number of applications for first-year undergraduate admission, the university has reached unparalleled interest from another (more slobbery) set of bulldogs. More than 135 English bulldogs from 18 states registered to compete in Drake's world-famous Beautiful Bulldog Contest®.
From this record-breaking pool of impossibly precious pooches, only 40 will be selected to compete in the 39th annual contest. Scheduled for April 22, the contest crowns the official mascot of the 2018 Drake Relays presented by Hy-Vee. Unlike prospective students, who are given careful consideration by admission counselors, the Beautiful Bulldog Contest's canine contestants (and 10 alternates) will be selected during a random public lottery drawing at 6 p.m. Tuesday, March 20, in The Knapp Center lobby. An exciting panel of contest judges will also be announced at the lottery.
Both events—the March 20 lottery and the April 22 contest—are free and open to the public, and will be live-streamed on the Beautiful Bulldog Contest at Drake University Facebook page.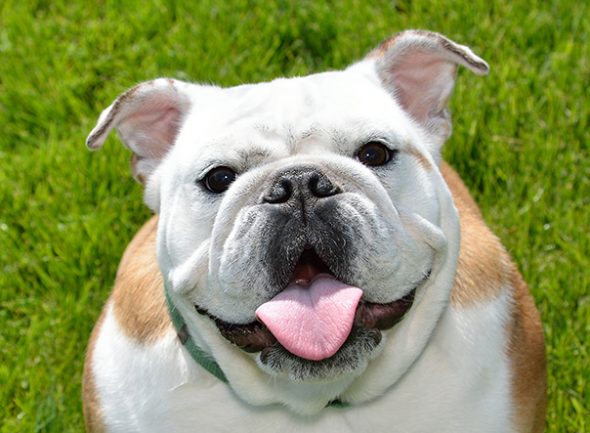 Among those who are hoping to be chosen for this year's contest:
Four bulldogs named Gus, including a 7-year-old rescue dog owned by Illinois English Bulldog Rescue and currently in the care of foster mom Jennifer Fanter of Athens, Ill. (Another Gus, owned by Kelly Armstrong of Altoona, enjoys eating free popcorn at a local tavern and "chilling on the floatie in the pool come summer."
Sasha, owned by Aaron Anderson of Mason City. She's confident enough to schmooze with other pets at the dog park but is afraid of plastic bags, paper towels, and aluminum foil.
Rubble Bourbon Stout, of Lincoln, Neb., who enjoys licking the dishes in the dishwasher (even the clean dishes), can often be found digging in the garden, and hates when penguins appear on television, according to owner Tony Chipman.
Benny, a "man of many interests" according to owners Megan and Michael Van Heiden of Ankeny. Benny loves to chill but strongly dislikes Netflix.
Zeus, a cheese-loving bulldog who immigrated to the U.S. from Ukraine at the tender age of 2 months old. He fits in with the humans in his life, including his mother, father, brother and sister, and he imitates his canine brother, a Mastiff twice his size. The family hails from Hawthorne Heights, Ill.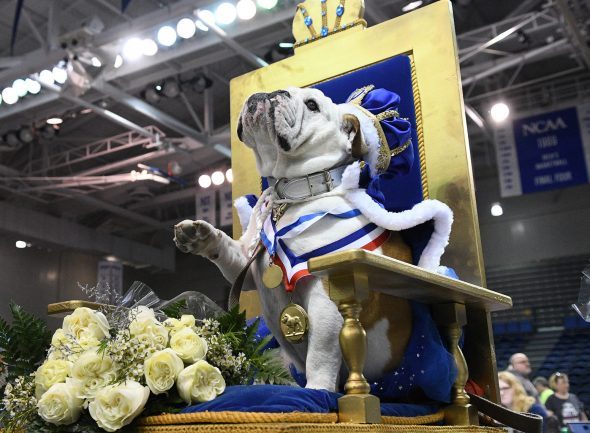 Drake's trademarked Beautiful Bulldog Contest, the first and longest-running of its kind, annually sees contestants and their families don creative costumes and strut their stuff across the runway. The winning bulldog receives top honors, a crown and cape, and will appear before his or her royal subjects at the Drake Relays. (Last year, Prudence, a 2-and-a-half-year-old English bulldog owned by Angela and Tom Miller of Des Moines, dazzled judges with a shimmering blue tutu and a sparkling diamond necklace.)
In addition to the "Most Beautiful Bulldog" award, the following awards will be given out to the most deserving pups:
Drake Spirit
Family Theme
Best Dressed
Congeniality
Rescue Dog Recognition
Porterhouse People's Choice
Second Runner-Up
First Runner-Up
For the second year, pet lovers are invited to contribute to a "Griff Gives Back" pet food drive in conjunction with the contest and lottery. Last year the pet food drive, hosted by Drake's live bulldog mascot Griff, raised more than 5,000 pounds of food for the nonprofit Pet Project Midwest. Donations of adult dog and cat food are accepted on-site at the contest and lottery, or by mail:
Drake University
attn: Griff Gives Back
2507 University Ave.
Olmsted Building—Drake Postal Operations
Des Moines, Iowa 50311
More information about the contest is available online.