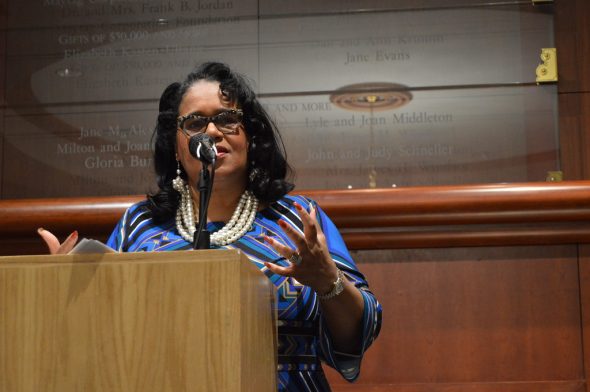 Students in the Drake University College of Business and Public Administration met with faculty, staff, and community leaders last month to celebrate and support the role of women in leadership.
The CBPA's annual Women's Leadership Breakfast was held Feb. 23, in Levitt Hall in Old Main. An invitation-only list of 45 students, 28 female community leaders, and 17 Drake faculty and staff members were in attendance.
Students, faculty members, and community professionals networked during the invite-only event. Drake alumna Renee Hardman, LA'83, BN'89, delivered the keynote address; she is president/owner of Hardman Consulting, LLC, and was recently elected as West Des Moines' first African American city councilwoman. Her keynote, "Go Where Your Wings Take You and Enjoy the Journey," reminded attendees to embrace opportunities as they arise and to not allow fear to hold you back.
Through her discussions on her upbringing and years of professional corporate experience, Hardman touched on topics of overcoming adversity and making the most of the experiences you have.
"The Women's Leadership Breakfast is my favorite CBPA event in the spring because it allows me to network with women in the Des Moines community," said Drake junior Clare Witte. "Renee Hardman's presentation helped instill in me the importance of never letting my self-doubts to take control."
After Hardman's speech, she was given the "Women's Impact Award" for outstanding professional contributions and her natural ability to remain a female role model to so many communities.
"She impressed us all with not only her successes, but also her strength and determination which brought her to where she is today," said Maddie Mueller, a junior international business and marketing double-major. "Being that she graduated from Drake, it is especially inspiring to see someone utilize her Drake education to accomplish so many incredible things."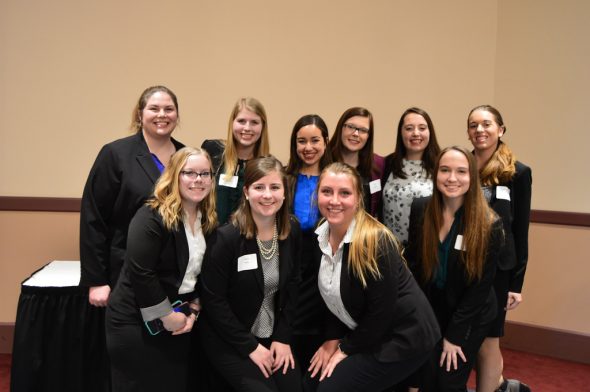 The college also issued awards to nine female presidents of student organizations within the CBPA. The list of student honorees, and their organizations, is below.
Zoey Glenn – Drake Actuarial Student Society. Junior, Actuarial Science and Data Analytics from Boone, Iowa
Janina Goncalves – Alpha Kappa Psi. Junior, Marketing and Graphic Design major from Chicago, Illinois 
McKenna Haase – Drake Investment Club. Junior, Business Studies major from Des Moines, Iowa
Erin Hirter – Drake American Marketing Association. Senior, Marketing major from Savannah, Missouri
Diana Lei-Butters – CBPA Graduate Student Association. Master of Public Administration with emphasis in Finance from Macau
Brooke Lofgren – Women In Business. Senior, Marketing major from Iowa City, Iowa
Brittany McQueen – Drake Association of Technology Advancement. Senior, Information Systems and Data Analytics double-major from Oskaloosa, Iowa
Emily Petrowski –  Alpha Kappa Psi. Senior, Marketing and Public Relations Double major from Park Ridge, Illinois
Clare Witte – Ambassadors Club. Junior, Accounting, Finance and Information Systems triple-major from Cedarburg, Wisconsin
The Women's Leadership Breakfast is an event built around networking, but also takes the time to celebrate successful businesswomen and those who plan to follow in their footsteps.
"I have been in attendance since my first year at Drake and…I consider it to be one of the events that has defined my time here," said Brooke Lofgren, a senior business and entrepreneurial management double-major. "Being surrounded by a room full of successful women who care about what you are studying and where you'd like to go in the future gives new perspective on the outstanding community of business professionals in Des Moines and beyond."