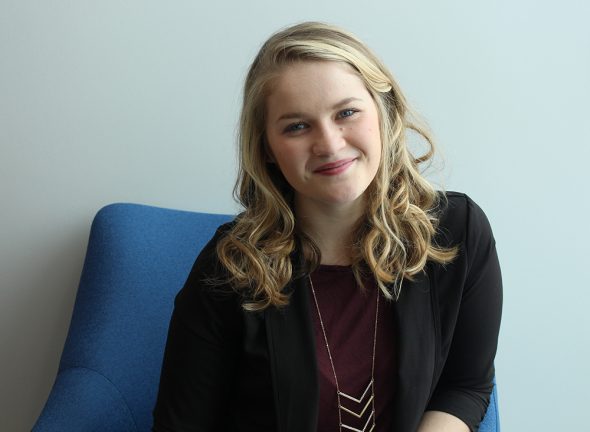 The maximum course load at Drake University is 18 credit hours per semester. Senior Katrina Sletten has had six 18-credit semesters as she strives to graduate with a triple major across disciplines, studying physics, astronomy and public relations with a minor in mathematics.
In addition to her full academic schedule, she has worked at the Drake Municipal Observatory since her first year; conducted research with Associate Professor Charles Nelson in the astronomy department on the morphology of seyfert galaxies; served as an intern at the Science Center of Iowa; was the president of the society of physics students; helped out in both astronomy and physics labs; worked as a political coder for the 2016 U.S. presidential election alongside Assistant Professor Matthew Thorton; and writes scientific articles intermittently for student-run magazine The Annual.
These accomplishments have landed her a spot as a fellow in the Brooke Owens Fellowship program. Starting May 28, she will intern with the Museum of Flight in Seattle in their Digital Learning Department.
The Brooke Owens Fellowship is a paid internship program for women in the sciences who strive to become leaders in the aerospace industry, and have a specific interest and passion for aerospace. Sletten went through an exhausting and tedious interview process to become one of 41 women selected for the fellowship.
"Science isn't a boys club," Sletten said. She believes this fellowship is not only a necessary addition to aerospace opportunities, but one that honors someone who "touched so many hearts."
Brooke Owens passed away two years ago from cancer at age 35, and the fellowship was started by three of her closest friends that same year. "What an amazing person (Brooke Owens) must have been to inspire this kind of fellowship," Sletten said.
Sletten has been interested in astronomy all her life. In kindergarten, she answered the question "what do you want to be when you grow up" not with princess, but with "astronomer."
After her first semester at Drake University, Sletten realized that she didn't want to spend her whole life in a lab because a multitude of her strengths lie in interpersonal communication and her innate ability to connect with others.
Her passion within the sciences is to inspire and teach the benefits of science to the masses, hopefully along the way spreading her love of astronomy with others. It was then that she added her public relations major, which is the perfect mesh of her creative, mathematic and logical skillsets.
The combination of majors often begs the question, "what is your dream job?" After interning at the Science Center in Iowa, Sletten has a newfound appreciation for non-profit science, and being able to share her expertise with people who may not have extensive scientific knowledge. She also wants her job to have a creative component, which she feels is richly available in non-profit science.
"I love trying to think of things in new ways; that's what keeps (science) fresh and engaging," Sletten said. "A huge part of me is problem solving. People ask me 'how do astronomy, physics and public relations go together?' And I tell them you have to have problem solving and creativity in both of these subjects …it's the bridge that not a lot of people see."
This mindset transitions perfectly to her job at the Museum of Flight, where she will be working to coordinate speakers and events, in addition to working alongside a summer camp for young girls interested in engineering and space.
Sletten first heard about the Brooke Owens Fellowship her junior year when her aerospace idol Emily Calandrelli posted the fellowship link on her Twitter. Sletten was immediately interested, but realized that the application was due the following day. She scrambled to write the essay, complete the creative component and ask professors for letters of recommendation. She made it all the way to the final round, but was not selected for a company.
She was heartbroken to miss out on an opportunity that perfectly encompassed her scientific values and professional aspirations, but fortunately one of the founders of the Brooke Owens Fellowship—Cassie Kloberdanz Lee—is the daughter of Mark Kloberdanz, director of the Drake University Student Counseling Center, and she reached out to Sletten after the selection process was finished urging her to continue with her aspirations.
"She said she was from Des Moines and she thought it was really awesome to see another woman pursuing aerospace in Iowa," Sletten said.
After corresponding, Kloberdanz Lee invited Sletten to meet up with her in Seattle, where she now resides. While there, Sletten networked with the company she had hoped to work for, GeekWire, and visited the Museum of Flight. The experience and friendliness of Kloberdanz Lee hooked Sletten on the program once more and convinced her to apply for it the upcoming year.
Sletten is the only astronomy major in her the 2018 Drake graduating class, so sharing her passion with other females just like her is one of the more powerful and alluring parts of the fellowship.
"I have 40 other girls who are in the aerospace industry and I could not be more excited because it's just a big sisterhood where we get to share stories and become friends with one another," Sletten said. "With a normal internship you don't generally get that community piece."
The program lasts until mid-August, and in addition to working for a company, all the fellows meet up and engage in community building, and each fellow is given a mentor who is a professional in aerospace engineering. The pairings are sent out to the fellows this March.
Sletten is excited to continue in a profession that has been her dream as long as she can remember. In her first year at Drake, Sletten received a D in physics and was afraid of potentially having to rethink her dream because the curriculum was so challenging.
"That moment was a turning point for me, because I realized my passion was enough to carry me through," Sletten said. "Along with inspiring people, I am driven by my own personal quest, and showing myself that I did it — even when it was hard, my love for science was enough to get me where I want to go."