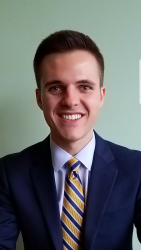 Drake University junior Alex Freeman of Eldridge, Iowa, has been named a finalist for the 2018 Truman Scholarship. The prestigious scholarship is given annually to students who aspire to leadership positions in federal, state, or local governments or in the not-for-profit and education sectors where they can influence public policies and change public programs.
The Harry S. Truman Scholarship Foundation received 756 applications from 313 colleges and universities this year, and Freeman is one of 194 students from 137 schools to be given further consideration for the prestigious scholarship.
Freeman is an economics, politics, international relations triple-major. During his time at Drake, he has served as campaign assistant for Drake alumnus and Iowa Rep. Zach Nunn; was nominated to serve on Gov. Kim Reynolds' Future Ready Iowa board; worked as a public affairs intern for the bipartisan public relations, public affairs, and marketing firm LS2group; and has been a legislative clerk at the Iowa Legislature. He founded Harvest Hustle, a 5K run to benefit Iowa homeless shelters and food pantries.
He was co-author with Associate Professor of Political Science Rachel Paine Caufield and Professor of Law David McCord on a research paper on the topic of prosecutorial discretion and judicial decisions in death penalty cases. The paper was delivered at an annual conference of the Midwest Political Science Association in 2017.
"I was motivated to apply for the Truman Scholarship because of the laudable mission of the foundation to inspire the next generation of public servants," Freeman said. "If fortunate enough to be named a scholar, it will be largely thanks to the hard work and dedication of the Department of political science and the rest of the faculty in the College of Arts and Sciences who have been vital supporters of my work, studies, and public service leadership. The institutional support from Drake University has been exceptional."
If selected for the Truman Scholarship, Freeman will receive up to $30,000 for graduate study, receive priority admission and supplemental financial aid at some premier graduate institutions, and participate in a summer public service internship in DC and other programs designed to develop and support careers in public service. Scholarship recipients will be notified April 20.
Drake has had eight Truman Scholars since the scholarship was created in 1977. Drake's most recent scholars include:
Sheila McCoy, AS'01, who currently works as assistant general counsel at the U.S. Government Accountability Office;
Todd Sechser, AS'99, associate professor of politics at the University of Virginia; and
Darci Vetter, AS'96, former chief agricultural negotiator for the Office of the U.S. Trade Representative and currently a strategic consultant working on international trade, food, and agricultural issues.
After earning his bachelor's degree from Drake, Freeman said he intends to pursue a master's degree in public policy with a concentration in international investment and trade policy. Like all scholarship recipients, he would agree to work in public service for at least four years upon completion of his graduate degree.