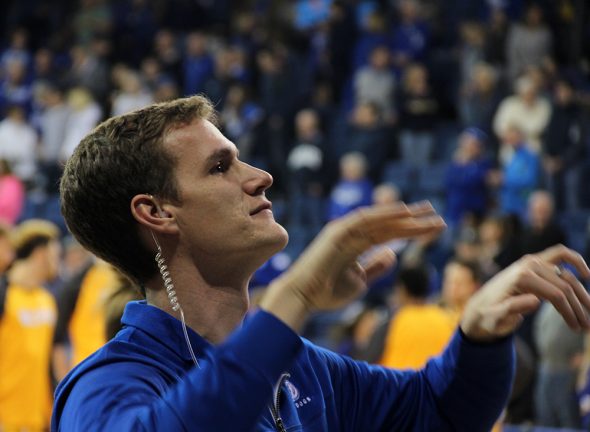 The Knapp Center has been an exciting place for Drake basketball fans this year, with the men's and women's teams notching big wins in front of boisterous crowds. Providing the soundtrack at every game is the Bulldog Brass, a group of 20 brass and rhythm section players. Assistant Professor of Music Vince Kenney is the man behind—or rather, in front of—the Bulldog Brass. He joined Drake in the fall 2017, lending his own brand of pep to musicians who work to create the home-court advantage that makes The Knapp Center a challenging venue for Missouri Valley Conference rivals.
Before the basketball teams wrap their conference seasons, Drake University student Jennifer Schallmoser sat down with Kenney for a Q&A about the 2017-2018 Bulldog Brass.
How would you characterize the sound and personality of the Bulldog Brass?
We're quirky and raucous. I think we've done a good job of really showing up to games, being loud, and providing some atmosphere and energy for the team this year. We do our best in hopes that the student section, the team and the rest of the crowd can feed off of energy. Sometimes you can hear how funny the students are, in the things that they yell, and they'll have individual things that they do that just show their own wit and humor in the context of the game.
Do you mean with their chants?
The individual chants, the individual things they do for free throws. We play loud and we try to have a good time at those games. I've got a couple guys who like to do what they call a "hotdog toss" at halftime. So they'll take a hotdog or two, and they'll throw them to the student section. I try to keep it under control…
What do you personally bring to Bulldog Brass?
I try to bring organization and energy. We have upwards of 75 students participating in the group, so making sure that we have every game covered—and everyone knows where they're supposed to be and when they're supposed to be there—is a big part of what I do. The other part, energy, is just kind of helping people to feel comfortable making some noise. As a conductor, you're almost a DJ for the whole event. You're calling up the right tune at the right time to make sure the crowd is as engaged as they could be. If [the basketball team] goes on a 10-to-nothing run, and the other team has to call a time out, I can't have some slow tune called up. It has to be "The D Song," so the crowd can clap along.
What's your favorite tune to conduct?
Pretty Fly (For a White Guy). It's just such a high energy piece, and we've got some drummers who really go off when we play it. Ryan and Skip are their names. They're both great players, and it gives them a chance to just go nuts on the drum set.
What has been the best moment of Bulldog Brass this season?
The women beat Iowa State the evening after Paul Morrison (Mr. Drake) passed away, so that was a really cool game because you could feel the team was giving it everything they had. To beat an in-state rival on that day, in that situation, that was something that felt very special.
What excites you about leading this particular group of musicians? What motivates you to bring your all to every game?
The thing that excites me the most is the role we play in the game. I think lots of people underestimate what a band and what a good crowd can do for the success of a team. I think we brought a lot of great energy to the Knapp Center this year and that is a big part of why the teams are seeing so much success…At the [Drake] athletic and music departments, we want everybody to have a unity of purpose…[where] we're all moving in the same direction. We want success for our students [and] we want success for our student-athletes, always. Being a part of that and getting to see the success is what helps me to bring my all to every game.
How does Bulldog Brass stand out from other schools in the conference? What makes it uniquely "Drake"?
The sense of humor that all the students bring to the ensemble. Lots of schools have a band, but the particular brand of humor Drake students come up with is just completely unique.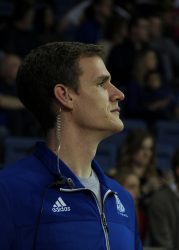 Shifting the focus to you, what musical influences to you bring to your work?
My biggest musical influence is Dr. Brian Bowman [Regent's Professor of Euphonium at the University of Texas]. He's kind of the godfather of euphonium playing in America. I used to audition a lot for military bands, and I noticed that his students won every competition, so I decided I wanted to study with him. I began studying with him in my master's program and the musical knowledge that he was able to impart on me was just on a level beyond anything I'd even considered. He really opened up a new world, and at the same time, he was just a good role model in all respects. He was a person who was a virtuoso in every sense of the word.
What is your best musical memory?
My best musical memory was competing in the finals of the Leonard Falcone International Solo Euphonium Competition. That was something I worked very, very hard for. They take 10 semifinalists from audition tapes sent from throughout the world, and then of those 10 that get invited, there are three finalists. So to make it to the finals at that competition was for me just absolutely memorable.
Finally, what's something about yourself no one would guess?
I have four sisters; I don't think anyone would guess that. I come from a big family, and I was the only boy. Everybody thinks that would be difficult, but it was actually really awesome. They're all cool people, and we get along really well, so that was nice.
More About Vincent Kenney:
Kenney began his first year as assistant director of bands and assistant professor of low brass at Drake in the fall of 2017. In his position at Drake, Kenney conducts the university's Symphonic Band, Marching Band and during basketball season, Bulldog Brass.
With a bachelor's degree from the University of Illinois Urbana-Champaign and a master's degree from the University of North Texas, Kenney is an active euphonium soloist and chamber musician. He has also helped to establish the euphonium quartet as a viable chamber medium as a member of the North Texas Euphonium Quartet. To date, Kenney has assisted in premiering nine new pieces written specifically for the North Texas Euphonium Quartet, with more coming soon.