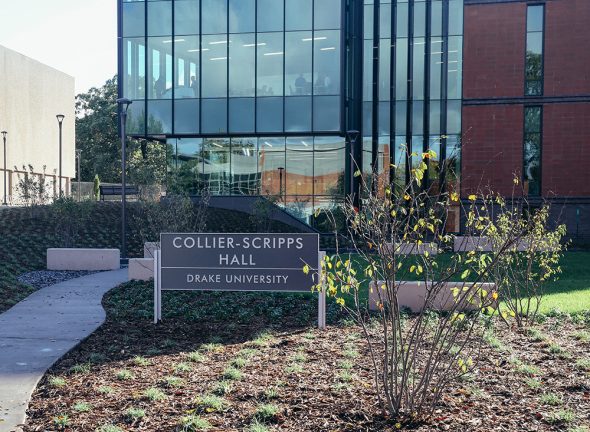 A new academic concentration at Drake University challenges students to examine the complex relationship between science and the humanities.
Launched in spring 2018, the Interdisciplinary Study of the Humanities and Sciences will be taught by faculty members from numerous academic disciplines, including English, philosophy, chemistry, and sociology.
Students will learn to bridge fields of study that are often perceived as distinct or isolated, by examining boundary-crossing questions like:
What can be learned about a piece of art by studying its chemistry?
Does a 'big data' approach to business and politics threaten to diminish our humanity and individual privacy?
How has our understanding of the human brain influenced filmmaking?
These questions are of increasing importance as science and technology continue to have expanding roles in our personal lives, our political and social spheres, and our business interactions, said Associate Professor of Philosophy Martin Roth, who recently published a book about neuroscience's influence on criminal law.
"Over the last few years, Drake has made tremendous advances in STEM education," Roth said. "As more of our students prepare for careers in STEM fields, this new academic concentration provides an innovative way to engage all Drake students in a timely study of the relationship between sciences and the humanities. This area of study has never been more relevant, and our new concentration supports the University's mission of integrating the liberal arts and sciences."
"This program provides an opportunity for students in both STEM and humanities majors to stretch themselves and gain an appreciation of ways of thinking outside of their chosen field of study," noted Milan Sherman, associate professor of mathematics. "Students will develop new perspectives on their area of study by examining it from the 'outside,' and discover ways in which apparently disparate disciplines can be integrated. In short, this program will afford Drake students the chance to engage in truly interdisciplinary coursework."