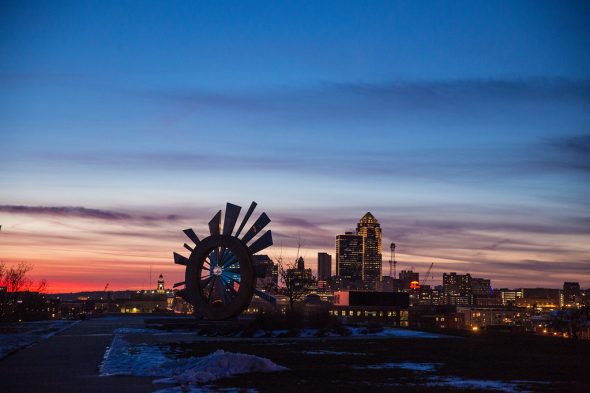 Nine members of the Drake University community were named to the Des Moines Business Record Forty Under 40 class for 2018.
The Business Record issues its annual list to honor Greater Des Moines area professionals under the age of 40 who have demonstrated "impressive career achievements and unparalleled community involvement," according to the publication.
"Drake alumni make meaningful contributions across the globe, and as our Forty Under 40 honorees demonstrate, those contributions begin at home here in Des Moines," said John Smith, vice president of university advancement. "We are very proud of this year's honorees—and of the 60 Bulldogs who have received this distinction since 2013. They are part of what makes Des Moines such a special place to live and work."
The 2018 honorees with Drake affiliations are:
Ashley (Watts) Aust, Juris Doctor (2010)
Associate general counsel at Hubbell Realty Company

Leslie Behaunek, Juris Doctor (2012)
Attorney at Nyemaster Goode
Charlie Bottenberg, Juris Doctor (2012) and Bachelor of Science in Biochemistry, Cell, and Molecular Biology (2004)
Attorney and partner at Masterson & Bottenberg
Krystle Campa, Juris Doctor (2007)
Senior shareholder attorney at Davis Brown Law Firm
Deidre DeJear, Bachelor of Arts in Journalism and Mass Communication (2008)
Owner of Caleo Enterprises 
Kristin Hurd, student in the Master of Communication Leadership program
Hurd Real Estate Services 
Sid Juwarker, Bachelor of Science in Environmental Science and Policy (2002) and Adjunct Instructor of Environmental Science and Policy
Client development manager at Terracon 
Will Signs, Bachelor of Arts in Journalism and Mass Communication (2002)
Senior communications manager at CDS Global 
Joey Taylor-Moon, Bachelor of Arts in Journalism and Mass Communication (2004) and Master of Business Administration (2007)
Director of marketing at Hubbell Realty Company 
Drake contributes greatly to the long-term economic and cultural vitality of Des Moines and the state as a whole. Students, faculty, staff, and visitors drive more than $413 million in consumer spending annually in the greater Des Moines area. More than 20,000 Drake alumni live in central Iowa, and their contributions include a more than $2 billion boost to the regional GDP.
This year's Forty Under 40 recipients were identified online February 1. They will be profiled in the March 16 edition of the Business Record and recognized at an event on March 29.