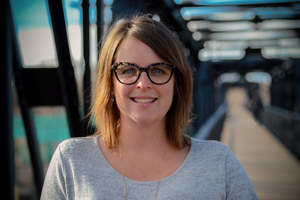 Suzan Pritchett has been named director of clinical and experiential programs and associate professor of law at Drake University Law School, effective July 1.
Pritchett is currently an associate professor and the faculty director of the Family and Immigrant Justice Clinic at the University of Wyoming College of Law. Under her guidance, students take on cases and advocacy work to combat gender-based violence—locally and abroad—in the areas of family law and immigration.
Before joining the permanent faculty, Pritchett served as a visiting professor and the Robert J. Golten Fellow at the UW College of Law, where she also co-directed the Center for International Human Rights Law and Advocacy.
She previously clerked for the Executive Office for Immigration Review in the U.S. Department of Justice and for the U.S. Court of Appeals for the Second Circuit. She has also worked in private practice representing clients in federal immigration matters.
Pritchett earned her BA in religion and gender and women's studies from Grinnell College, an MA in international development from the University of Sussex in England, and a JD from the University of Iowa College of Law. While in law school, she served as an editor for the multi-disciplinary journal Transnational Law and Contemporary Problems and was the recipient of several public interest and human rights awards.
Pritchett's areas of interest include gender, asylum, and human rights law. She has worked in the Africa Division of Human Rights Watch as part of the University of Iowa's Kenneth J. Cmiel program and with the international advocacy groups Womankind Worldwide in London and Legal Momentum in New York.
As a passionate advocate for immigrant justice, Pritchett has been published in numerous academic journals and regularly presents on the topics of immigration law and policy. Her recent scholarship includes "Shielding the Deportable Outsider: Exploring the Rape Shield Law as Model Evidentiary Rule for Protecting U Visa Applicants as Witnesses in Criminal Proceedings" in the Harvard Journal of Law and Gender and "One in Fifty: Refugee Federalism and Wyoming" in the Wyoming Law Review.
In recognition of her work, Pritchett received the Champion of Justice for Legal Services Award from the Wyoming State Bar this fall.
"Drake has long been a national leader in clinical legal education, and we are thrilled to have Professor Pritchett join us," said Jerry Anderson, dean of Drake Law School. "She has a strong vision for our clinic and will give students the added benefit of her expertise in the increasingly important area of immigration law."
Established in 1971, the Drake Legal Clinic allows students to apply their classroom knowledge to the representation of real clients under faculty supervision. The clinic also serves the community by helping those who might not otherwise have access to legal assistance.
Drake offers eight clinical programs: Children's Rights Clinic, Juvenile Delinquency Clinic, Criminal Defense Clinic, Advanced Criminal Defense Clinic–Trial, Elder Law Clinic, Entrepreneurial/Transactional Clinic, General Civil Practice Clinic, and Advanced General Civil Practice Clinic.
Thanks to the opportunities provided by the legal clinic, Drake has consistently been named a top 25 Best Law School for Practical Training by The National Jurist.
Learn more about the Drake Legal Clinic.