** NEW DATE: Due to winter weather, the concert of Asaf Zohar has been rescheduled for WEDNESDAY, FEBRUARY 7 at 7:30 p.m. in SHESLOW AUDITORIUM.**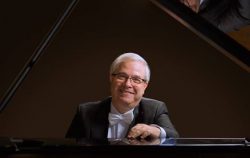 Asaf Zohar, professor of piano at The Buchmann-Mehta School of Music of The Tel-Aviv University, will present the next concert of Drake University's Keys to Excellence Piano Series at 7:30 p.m. Monday, February 5, in Sheslow Auditorium.
The performance is free and open to the public, and will feature the following piano sonatas of Ludwig van Beethoven (1770-1827).
Keys to Excellence Piano Series 2017-18
FEBRUARY 5: Asaf Zohar – Tel Aviv University
MARCH 26: Mei-Hsuan Huang – Iowa State University
APRIL 23: Peter Miyamoto – University of Missouri (Columbia)
PAST PERFORMANCES
SEPTEMBER 25, 2017: Steven Spooner – University of Kansas
NOVEMBER 6, 2017: Arthur Greene – University of Michigan
NOVEMBER 27, 2017: Nicholas Roth – Drake University
JANUARY 29, 2018: Roustem Saitkoulov – Russia
All performances begin at 7:30 p.m. in Sheslow Auditorium and are free and open to the public.
Sonata No. 8 in c minor. Op. 13 ("Pathetique")
Grave – Allegro di molto e con brio
Adagio cantabile
Rondo: Allegro
Sonata No. 21 in C Major, Op. 53 ("Waldstein")
Allegro con brio
Introduzione: Adagio molto (in F major)
Rondo. Allegretto moderato — Prestissimo
Sonata No. 23 in f minor, Op. 47 ("Appassionata")
Allegro assai
Andante con moto
Allegro ma non troppo — Presto
Zohar will also present a free public masterclass at 2 p.m. Sunday, Feb. 4 in Sheslow Auditorium.
Born in Israel, Zohar is one of the most active Israeli pianists and pedagogues. He is a graduate of the Givatayim Conservatory and The Rubin Academy of Music in Tel Aviv and he received his Doctorate degree from the Indiana University School of Music, where he was also a visiting lecturer.
His teachers include: Hana Shalgi, Arie Vardi, Menahem Pressler, Leonard Hokanson and Michel Block. Artists for whom he performed in masterclasses include: Arthur Rubinstein, Alfred Brendel, Christoph Eschenbach, Eugene Istomin, Leon Fleisher and Claude Frank.
Zohar was awarded prizes in Israel and in International Competitions in Pretoria, Sydney, Vienna, and The Robert Casadesus Competition in Cleveland.
He has performed with all the leading Israeli orchestras including The Israel Philharmonic Orchestra under the batons of Zubin Mehta, Gary Bertini, David Robertson, Mendi Rodan, Noam Sheriff, David Shalon, Jan Pascal Tortelier, Urs Schneider and others. Asaf Zohar appeared in numerous recitals in Israel as well as on Israeli Radio and T.V. Abroad, Mr. Zohar has performed concerts and recitals in the U.S.A, Austria, Germany, France, Great Britain, Spain, Italy, Russia, Georgia, South Africa, Australia and Japan.
Zohar teaches as professor of piano at The Buchmann-Mehta School of Music at The Tel-Aviv University, as well as at The Jerusalem Academy of Music and Dance where he has served as chair of the keyboard department and dean of the faculty of performing arts for 10 years. In addition, Mr. Zohar teaches at the Givatayim Conservatory, as well as in The Jerusalem Music Center.
In recent years, Zohar has edited, lectured and performed in a series of lectured concerts in Israel presenting Beethoven's Piano Sonatas, Mozart's Concerti, and piano works of Chopin, Brahms, Schubert and Schumann among others.
The Keys to Excellence Piano Series was created to raise awareness of Drake's fundraising efforts for the purpose of 70 brand new Yamaha pianos for the music department. It brings internationally acclaimed artists to perform on the Yamaha CFX concert grand at Drake University.
The series is supported by Yamaha, West Music, Civic Music Association, and Drake University. For more information, contact Nicholas Roth at 515-321-5947 or nicholas.roth@drake.edu