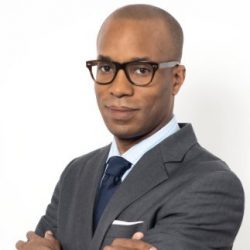 Music industry executive Jonathan Azu, BN'99, was elected to Drake University's Board of Trustees during the board's quarterly meeting in Des Moines on Jan. 11. He joins the board for a three-year term, beginning in April.
Azu is general manager and executive vice president of Red Light Management, the world's largest independent music management company. In his role, he oversees organizational planning and development for Red Light's portfolio of managers and represents well-known artists, including Luke Bryan, Michelle Williams, Phish, Ben Harper, and more.
"Jonathan is highly accomplished and respected in his field," said Drake University President Marty Martin. "His innovative and forward-thinking leadership as well as his enthusiasm for Drake will bring a fresh and valuable perspective to the board."
Azu graduated from Drake University in 1999 with a Bachelor of Science in Marketing. He attributes his first 'big break' in the music industry to when he booked the Dave Matthews band to perform on campus during his senior year.
"Drake University has had a massive impact on my life professionally and personally," said Azu. "If not for Drake, I would undoubtedly not be where I am today. I look forward to harnessing my passion for the University while performing my duties as a board member."
After graduating from Drake, Azu spent 10 years at CBS Radio Inc. where he held several positions, including vice president of music partnerships, and three years as executive vice president of operations and business development for Superfly Presents.
Azu was selected by Billboard magazine as a "Top 40 Under 40: Music's Young Power Players" in 2014 and 2015.
He served on Drake University's National Alumni Board until 2017 and was a recipient of Drake's Young Alumni Achievement award in 2007.