Meredith Hall is bustling again!
Faculty, staff and students are back on campus to participate in January Term classes:
Professor Chris Snider is teaching the first class in our new online Master of Arts in Communication program.
Professors Sandy Henry and Todd Evans are collaborating on "Agency 199," which is producing a multimedia project for the Des Moines Playhouse.
Professor Jennifer Konfrst is teaching a class on political communication in the classic TV show "The West Wing."
Adjunct faculty member Tobi Parks is team-teaching a class on the recorded music industry with entrepreneurship professor Tom Swartwood. Students learn about the industry and then apply what they learn by promoting a Dogtown show featuring local bands.
Professor Lee Jolliffe is teaching a section of Intro to Visual Communication and Professor Kelly Bruhn is teaching Public Relations Principles.
And SJMC internship coordinator Carlyn Crowe is venturing much further afield to team-teach a study-abroad travel seminar in Mexico!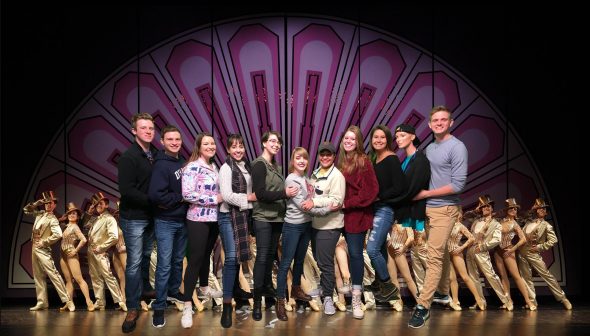 The "staff" of J-Term's Agency 199
SJMC senior wins national writing award
Senior Adam Rogan placed in the top 10 of the Hearst Journalism Foundation's annual feature writing contest in December. His first-person multimedia story on boxing was published in Urban Plains, the SJMC's award-winning senior capstone website. Rogan's work placed seventh in the national contest, which attracted 154 entries from 82 schools.
Iowa Newspaper Foundation offers scholarships
The Iowa Newspaper Foundation offers scholarships for communications majors in a range of disciplines. Application deadline is Feb. 9, 2018. For more information, see https://inanews.com/foundation/scholarships/. Applications are also available on the table outside of Mer. 118. 
Have a news item for the Memo?
The SJMC Monday Memo is a weekly newsletter to keep members of the wider SJMC community updated on School news, achievements, events and opportunities. If you have an item for the Memo, please send it to Dean Kathleen Richardson (kathleen.richardson@drake.edu) or SJMC webmaster and multimedia professor Chris Snider (christopher.snider@drake.edu). SJMC alums and other professionals can also contact Chris to have the Memo delivered via weekly email.
The School of Journalism and Mass Communication strives to create a community of scholars that represents the complexity of the human experience in regards to race, ethnicity, sex, sexual orientation, economic status, gender identification, religion, age and physical abilities. We are committed to creating a welcoming and supportive environment for all our faculty, staff, students and visitors, and celebrating our differences through the lens of the First Amendment value of freedom of expression.