The inaugural recipients of the newly established Richard Morrow Transformational Leadership Award were presented during the annual Drake University College of Pharmacy and Health Sciences Day held Nov. 9, in Sheslow Auditorium. The award, honoring Richard Morrow, GR'83, Ellis and Nelle Levitt Professor Emeritus of Pharmacology, recognizes a student and a faculty member whose transformational work has gone above and beyond.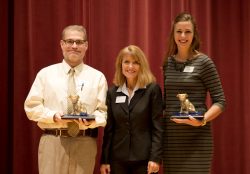 Michelle Mages, P4 student from Hastings, Minn., and Dr. Geoffrey Wall, professor of pharmacy practice, were this year's recipients.
"It is wonderful to see Dr. Morrow's legacy continue through these awards. His transformational leadership is still having an impact on our College today, whether it is the combined pharmacy/MBA program, a culture of mentoring and advising, or his contributions in creating an undergraduate health sciences program," said Dr. Renae Chesnut, dean of the college of pharmacy and health sciences. "Dr. Wall and Michelle Mages have both gone above and beyond to implement positive change for the college that will continue to have an impact on future generations of CPHS faculty and students."
Transformational leaders focus on team-building, motivation and collaboration with colleagues to accomplish change for the better. They identify a needed change, create a vision to guide the change through inspiration, and execute the change through collaboration. They also emphasize one or more of the Drake CPHS Core Values: Collaboration, Collegiality, Entrepreneurial Leadership, Innovation, Professionalism, Student/Learner-Centered.
Michelle Mages had a vision to improve the quality of patient care through increased collaboration across healthcare professions. In her first year of pharmacy school, she was a founding member of the Des Moines Student Healthcare Partnership (DSMSHP), a small group of Doctor of Osteopathic Medicine (DO) and Doctor of Pharmacy students meeting intermittently to discuss interprofessional education (IPE).
During the second and third year of DSMSHP, the organization expanded from six students representing two professions to 24 members representing six professions under her leadership on the executive committee and as president. Mages solidified a partnership between DSMSHP and the Des Moines Area Interprofessional Education Collaborative (DMAIPEC), a collaboration between faculty and staff at the five healthcare-related colleges and universities in the Des Moines area committed to IPE.
Mages said she was honored to be awarded the Morrow Transformational Leadership Student Award, and that it is humbling to be recognized as a leader.
"I believe the greater significance of this award is the transformation that it recognizes: the positive transformation of healthcare professional training in the Des Moines area shifting to be more interprofessional and preparing students for a culture of team-based healthcare," Mages said. "I am grateful for this award and everyone who is working to make this positive transformation, especially members of the Des Moines Student Healthcare Partnership."
Dr. Geoffrey Wall has been at Drake since 1999 and is currently a preceptor for students in internal medicine and critical care rotations.
Throughout his career, Wall has led a number of transformational projects that have been unique, practice-changing, client-centered and have benefited those involved. Examples include the penicillin allergy skin testing service and the pharmacy practice residency at Iowa Methodist Medical Center in Des Moines, the Drake Drug Information Center, the establishment of the clinical informatics position with The Iowa Clinic, and the development of activities to assist students in obtaining residencies.
"It is an absolute honor to chosen for the inaugural version of this award," Wall said. "Dr. Morrow was an exemplary teacher, researcher and leader, and to be selected for any award that bears his name is truly an honor."
Dr. Richard Morrow worked in a variety of administrative roles, including chair of the division of pharmacy sciences, and assistant, interim, and associate deans of the CPHS. Morrow's impact on the University and college is noteworthy as he chaired and served on a variety of committees and task forces at the University level, including Faculty Senate President. He was instrumental in the success of the college's dual PharmD/MBA program and served as liaison to the Iowa Methodist School of Nursing. His impact on students went beyond the classroom as he was a faculty advisor to a number of student groups and honor societies, and a mentor to countless students. Alumni and colleagues today still credit Morrow for their success and describe him as a teacher who cared deeply about his students.