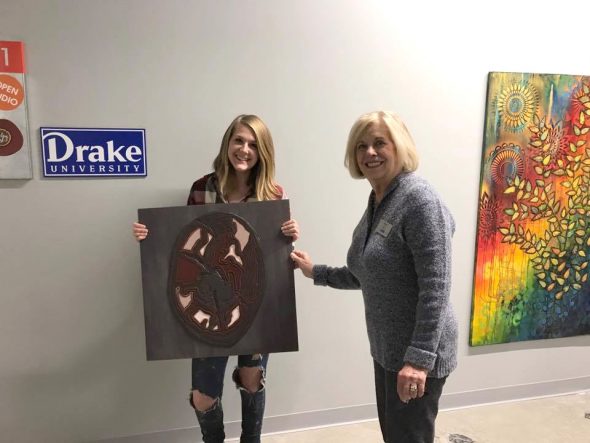 When Betsy Hart graduated, she was eager to begin a career in the art world. But like many blossoming artists, she found that her accommodations were cramping her style.
"I had been struggling to maintain a studio practice because I had been working out of my one-bedroom apartment," said Hart, AS'16, a painter who enjoys working with latex house paint. "The stuff I was doing was large-scale and messy, so it's not something I can do at the kitchen table. I had the financial resources and stability of an everyday job to actually work on a studio practice; all I was missing was the space to do it in."
A new program sponsored by Drake University helped give Hart a running start on her career. Through a competitive application process, Drake's Department of Art and Design selected Hart to receive one year of rent-free studio space at Mainframe Studios, a Des Moines nonprofit studio space.
"It's been amazing," Hart said. "I have been creating what I want to create, and I have been able to meet and connect with other artists. I'm constantly thinking about my art now."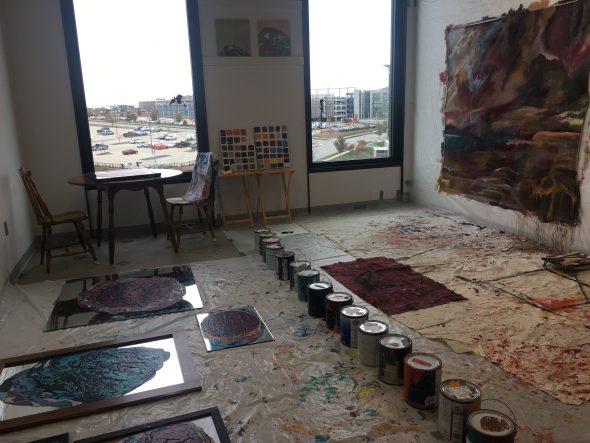 Having a Drake studio in Mainframe was President Marty Martin's idea—it's funded by the Office of the President and part of a broader University commitment to enhancing the quality of life and economic development in central Iowa through arts and culture.
"It's a form of support that we can offer our alumni," said Benjamin Gardner, department chair and associate professor of art and design. "Studio space is affordable for someone with a full-time salary, but it's difficult to afford for someone who is right out of college in addition to renting somewhere to live."
"Being able to say I have a studio at Mainframe opens up conversations with more established artists," Hart said. "I feel like they saw me in a different way since I had a studio."
Hart is appreciative of the opportunity Drake had given her to further her art career.
"The fact that Drake is doing this for their alumni, it shows that they care about their art and design program, and they care about the Des Moines art community," Hart said. "It makes me proud to have gone to Drake."