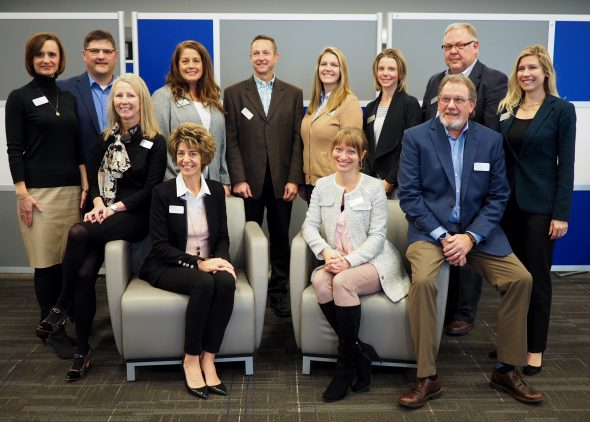 Fifteen executives from 13 central Iowa organizations recently graduated from the Executive Education Center at Drake University's Leading Others program. The intensive 18-month program enhances participants' ability to lead organizations through times of stability and change. Sixty percent of the program's participants experienced a promotion or significant increase in responsibilities while enrolled in the program.
The following leaders graduated from the program on November 9, 2017: 
Ian Asplund, EMC Insurance, Senior Vice President, Strategic Analytics
Stacy Bagby, Sammons Retirement Solutions, Vice President, Sales and Compliance Administration
Emily Berrier, Nationwide Insurance, Director, Commercial Underwriting
Sarah Bonefas, Food Bank of Iowa, Director, Development
Nataliya Boychenko, Holmes Murphy, Assistant Vice President, Employee Benefits/Shareholder
Lori Gaedelmann, FBL Financial Group, Vice President, Assistant General Counsel
Emily Heeren, DuPont Pioneer, Finance Manager R & D, North America
Robert Link, EMC Insurance, Senior Vice President, Corporate Secretary
Joe Pachunka, Fiserv, Vice President, Information Technology
Kirk Patten, FBL Financial Group, Director, Talent Development
Sarah Ramsey, Drake University, Director, Executive Education
Jackie Rolow, Shazam, Executive Vice President and Chief Talent Officer
Tiffany Tauscheck, Greater Des Moines Partnership, Chief Communications Officer
Cinda Whitten, Principal Global Investors, Managing Director, Investment Operations
Andy Wood, Bankers Trust, Chief Information Officer
Leading Others is an open-enrollment program designed for leaders seeking leadership transformation and accelerated growth. This program leverages a four-part, signature learning experience encompassing more than 100 hours of instruction, executive coaching, a Drake 360 leadership success profile, and guidance in implementing a personalized leader development and business plan.
Applications for the 2018 executive leadership cohort are due on January 17, 2018.  For more information, contact Sarah Ramsey, director of the Executive Education Center at Drake University, at sarah.ramsey@drake.edu or visit www.drake.edu/execed.