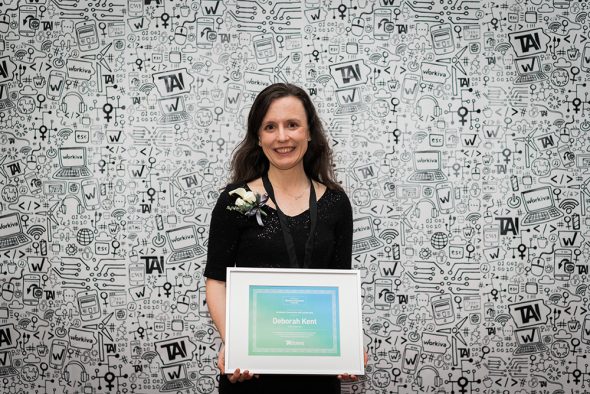 Deborah Kent, associate professor of mathematics at Drake University, won a state award for innovation in STEM education.
The Technology Association of Iowa named Kent the recipient of the 2017 Women of Innovation Awards in the category of Academic Innovation and Leadership during a ceremony on November 13.
She had been named one of five finalists in October, alongside educators from the Waukee, Des Moines, and Carroll public school districts, the University of Northern Iowa, and the Science Center of Iowa and Blank IMAX Dome Theater.
"Many of my mentors have impressed on me that the future of mathematics lies in the power of merging theory with modern technology," Kent said. "It was exciting to be included among the 2017 TAI Innovation awards for my recent academic work that incorporated computing tools in ways that respect the strengths of traditional thinking. It is my daily privilege to implement these ideas in classrooms at Drake."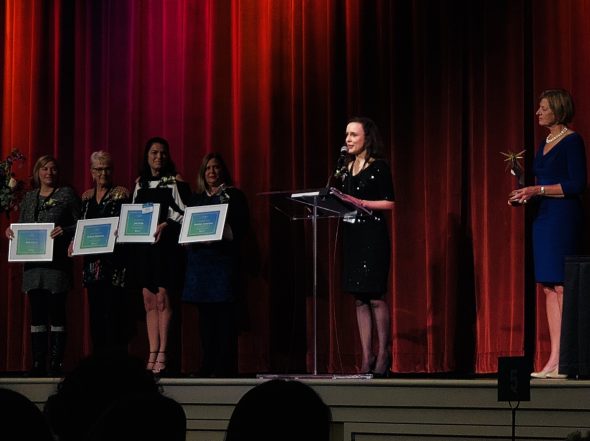 Students in Kent's courses benefit from her strategic approach to incorporating classroom technology into the educational experience.
"Mathematical ideas must be powerfully integrated with technology in the modern world and I work hard to do this in the classroom," Kent said. "I use technological tools to support the strengths of traditional thinking and to enable students to do things they wouldn't otherwise be able to do."
For example, Kent recently introduced a Numerical Linear Algebra course in which students used MATLAB, a high-performance language for technical computing—including data analytics and algorithm development. The MATLAB software empowers students to manipulate and visualize large data sets.
Kent also believes that innovation happens through collaboration. While designing this  computational course, she consulted with a variety of international experts in numerical methods.
"Her resulting class merged deep theoretical ideas with the challenges of coding and implementation to bridge a gap at Drake," Sondra Ashmore, business partner at WR Berkley Corporation, said in an award nomination.
The award also recognizes Kent's national reputation for excellence in mathematics writing, and her emphasis on teaching students effectively to communicate technical information.
Kent is the founding faculty advisor for Women in Mathematics and Computer Science (WiMaCS), a Drake student group organized to unite, engage, educate, and empower women interested in mathematics and computer science.
"Deborah Kent's knowledge and enthusiasm for her content area are equal to her encouragement and support of student achievement," said Sarah Derry, manager of the South Central Iowa STEM Hub at Drake University. "All of the finalists for Women of Innovation awards are incredible leaders who channel their talents to elevate others. For Deborah to win this honor from such an outstanding pool is a testament to her innovative work in the classroom, with Drake WiMaCS, and around the community. "