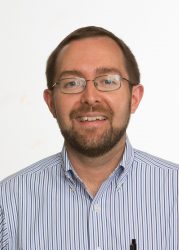 Drake University's STEM librarian Dan Chibnall is a passionate advocate for Science, Technology, Engineering, and Mathematics literacy on campus and in the community. Chibnall recently was elected as the Vice President/President-Elect for the Iowa Library Association (ILA). He has served on the ILA board since 2015, having held an at-large position before being chosen as the new Vice President/President Elect.
We asked Chibnall to share a few words about his ILA election and his work at Drake:
Q: What do you hope to accomplish in this position?
A: "I want to help establish stronger lines of communication between our members and member libraries. It's through collaboration and the sharing of effective programs and ideas that our state's libraries will be eventually become stronger. In the end, it's all about serving our communities and our patrons, and I want libraries and librarians to have as many effective ideas and programs as possible to help them serve those people."
Q: How does this position reflect the work you are doing at Drake?
A: "Drake has helped me to further hone my leadership skills, develop stronger collaborations with colleagues, and to be a better independent, critical thinker when it comes to teaching, learning, and designing programs. Thanks to my work with some STEM faculty on projects like embedded librarianship, STEM visits to local high schools, and lesson plan design, I've developed better ideas of how I can do the same thing with my colleagues in the Iowa Library Association. It's a two-way street because whatever progress I make in one area helps me to see what's possible in the other area."
Q: What makes ILA so special?
A: "ILA is special because it's a group of librarians who work so well together no matter if they come from public, school, academic, or special libraries. Even though we all have different skill sets, priorities, patron bases, and programs, we all love to help people become lifelong learners and also help them strengthen their communities through their libraries. ILA is a great organization because it helps us all to see just how powerful we can be when we build strong communities of readers and engaged citizens."
The Iowa Library Association was established in 1890. It is the second oldest state library association in the country.  ILA has approximately 1350 members.  Membership is comprised of librarians, library workers, teacher-librarians, trustees, students and friends. Congratulations to Dan for this honor.