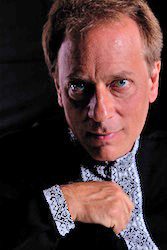 Arthur Greene, professor of piano at University of Michigan, will present the next concert of Drake University's Keys to Excellence Piano Series at 7:30 p.m. Monday, Nov. 6 in Sheslow Auditorium. Admission is free. A multimedia presentation on Russian composer Alexander Scriabin will feature the following works:
Piano Music of Alexander Scriabin
Nine Preludes,
Op. 11, No. 1 in C Major – Vivace
Op. 11, No. 6 in B Minor – Allegro
Op. 11, No. 8 in F-sharp Minor – Allegro agitato
Op. 11, No. 9 in E Major – Andantino
Op. 11, No. 21 in B-flat Major – Andante
Op. 13, No. 3 in G Major – Andante
Op. 37, No. 1 in B-flat Minor
Op. 37, No. 2 in F-sharp Major
Op. 37, No. 3 in B Major
Eight Etudes, Op. 42
No. 1 in D-flat Major – Presto
No. 2 in F-sharp Minor
No. 3 in F-sharp Major – Prestissimo
No. 4 in F-sharp Major – Andante
No. 5 in C-sharp Minor – Affanato
No. 6 in D-flat Major – Esaltato
No. 7 in F Minor – Agitato
No. 8 in E-flat Major – Allegro
Fantasy in B minor, Op. 28 
Sonata No. 7, Op. 64, "White Mass" 
Sonata No. 9, Op. 68, "Black Mass" 
Etude in D-sharp Minor, Op. 8, No. 12
Keys to Excellence Piano Series 2017-18
SEPTEMBER 25: Steven Spooner – University of Kansas
NOVEMBER 6: Arthur Greene – University of Michigan
NOVEMBER 27: Nicholas Roth – Drake University
FEBRUARY 5, 2018: Asaf Zohar – Tel Aviv University
MARCH 26, 2018: Marina Horak –  Academy of Music in Ljubljana
APRIL 23, 2018: Peter Miyamoto – University of Missouri (Columbia)
All performances begin at 7:30 p.m. in Sheslow Auditorium and are free and open to the public.
Greene will also present a free public masterclass at 1 p.m. Sunday, Nov. 5 in Turner Jazz Center.
Greene was born in New York and grew up in Sheffield, a small town in Massachusetts. He went to Yale University, then to Juilliard, where he studied with Martin Canin. He now teaches at the University of Michigan in Ann Arbor, and in the summer lives in L'viv, Ukraine.
"A profound musician" – The Washington Post; "A masterful pianist" – The New York Times; "Intoxicating appeal" – Mainichi Daily News, Japan; "A romantic splendor of sound-colors" – Ruhr Nachrichten; "Stellar Scriabinist" – American Record Guide.
Greene won first prizes in the William Kapell and Gina Bachauer International Piano Competitions, and was a top laureate at the Busoni International Competition. He performed the complete solo piano works of Johannes Brahms in a series of six programs in Boston, and recorded the Complete Etudes of Alexander Scriabin for Supraphon. He has performed the 10 Sonata Cycle of Alexander Scriabin in many important international venues, including multi-media presentations with Symbolist artworks. He has made many recordings together with his wife, the violinist Solomia Soroka, for Naxos and Toccata Classics, including the Violin-Piano Sonatas of William Bolcom. His recording of piano works of the Ukrainian composer Mykola Lysenko has recently been released on Amazon.
Greene has performed with the Philadelphia Orchestra, the San Francisco, Utah, and National Symphonies, the Czech National Symphony, the Tokyo Symphony, and many others. He has played recitals in Carnegie Hall, the Kennedy Center, Moscow Rachmaninov Hall, Tokyo Bunka Kaikan, Lisbon Sao Paulo Opera House, Hong Kong City Hall and concert houses in Shanghai and Beijing. He toured Japan and Korea many times. He was an Artistic Ambassador to Serbia, Kosovo, and Bosnia for the United States Information Agency.
At the University of Michigan Greene has won the Harold Haugh Award for Excellence in Studio Teaching, and in 2007, he and his students presented a recital series of the complete solo works of Chopin in nine concerts; they organized along with the performances a Chopin symposium with presentations by noted musicologists. His current and former students include prizewinners in international competitions, and his former students hold important teaching posts throughout the United States. He is a frequent judge of piano competitions, most recently the Isangyun Competition in Korea.
About Keys to Excellence Piano Series
The Keys to Excellence Piano Series was created to raise awareness of Drake's fundraising efforts for the purpose of 70 brand new Yamaha pianos for the music department. It brings internationally acclaimed artists to perform on the Yamaha CFX concert grand at Drake University.
The series is supported by Yamaha, West Music, Civic Music Association, and Drake University. For more information, contact Nicholas Roth at 515-321-5947 or nicholas.roth@drake.edu