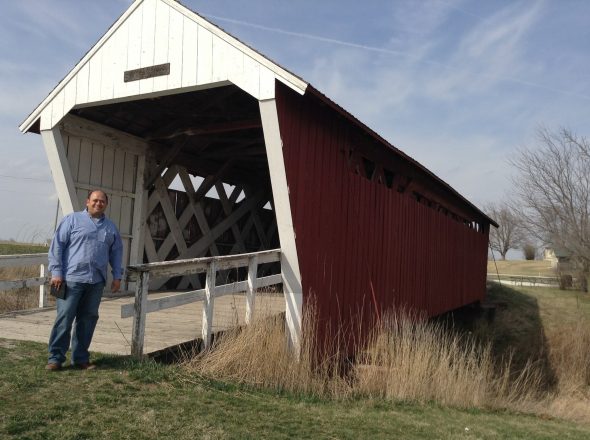 Salvador Leetoy is a professor of global communication and cultural studies at Tecnologico de Monterrey in Guadalajara, Mexico. His first experience with Drake students was in 2013, when a January Term class visited Monterrey Tec; the students enjoyed his lessons so much that they secured grant funding to bring him to Drake for a free public lecture in 2014. He is teaching at Drake during the 2017–2018 academic year thanks to the Fulbright Scholar in Residence Program.
What are your primary areas of research? Are you doing any research while in Iowa?
I study activism and social movements. I am especially interested in the way groups who are traditionally excluded from everyday politics use art and technology to create a platform for political discourse and political resistance.
Here in Des Moines, I am working with Darcie Vandegrift, professor of sociology, to study ways that Latin American—and particularly Mexican—immigrants are organizing themselves as a form of support against what they perceive as harsh and difficult governmental policies. For example, these groups use creative experiences—music, performances, dancing—in conjunction with tools like YouTube, Facebook, and Twitter as a way of being visible in their struggle to be heard and to be considered a "regular citizen."
What subjects are you teaching at Drake?
I'm teaching two courses: one on topics of political communication and globalization, and the other on the role of Latin American media outlets in politics and society.
What have you found to be some defining characteristics of a Drake student?
Drake students have a lot of curiosity, even about topics and themes that are not very common in a university curriculum. In my political communications course, for example, I'm trying to provide students with a kind of cosmopolitan, multicultural perspective on mass media around the globe. Students have been very interested in exploring the media environment in Africa, Asia, and Latin America. I've also found that Drake students are highly respectful when considering different and sometimes controversial ideas. And they show a great deal of initiative; they go looking for more information when they don't have the complete picture.
What's your favorite place in the Des Moines area?
To begin with, it's a big honor to be in the heart of the country. Coming from a very large city like Guadalajara, with almost 6 million people living there, I feel I am breathing again. This city provides a very interesting atmosphere for enjoying life and having quality time with your family—I like to walk in the Pappajohn Sculpture Park with my wife and our 10-year-old son. I also like to explore food from other parts of the world, and there are plenty of interesting restaurants. There's a Vietnamese restaurant, Pho 515 in C Fresh Market, that's good. Also, Drake Diner is good—I find it kind of authentic; something that is very American.
Part of Drake's mission is to prepare students to be responsible global citizens. What can the University do to fulfill that goal?
Before students can consider complex issues about the role of citizens in a participatory democracy, and in a global society, it is important that a university provide a safe and welcoming environment for the expression of diverse and sometimes controversial opinions. An inclusive environment is essential because it creates a space where students are exposed to differing opinions, and students feel comfortable asking tough questions—both of themselves and others.
In order to be a responsible global citizen, you must be able to empathize with others, question norms and values, and understand that we function not solely as individuals but as members of a diverse community. I have seen that Drake is dedicated to providing a conducive environment—a space that is free of any form of discrimination or prejudice. This really is a university that believes in social responsibility and human rights.