Welcome to JMC Days!
Today is the kickoff to JMC Days, the annual celebration of all things SJMC! There are a variety of events scheduled throughout the week, plus, of course, daily treats in the Meredith Hall lobby next to the atrium.
Tonight, plan to participate in the inaugural Cool Jobs Expo, 5-7 p.m., in Meredith Hall. Representatives from area media organizations, companies, nonprofits and agencies will be on hand to talk about  the kinds of cool communications jobs they offer and how students can prepare for them.
This will be an actual dog and pony show!  One of the cool jobs presenters, Kim Waltman of Full Circle Creative + Coaching, who is a Drake PR alum, will be showcasing how she uses horses in executive coaching. The horses will be near Meredith, in the Olmsted lot by Morehouse. Another PR alum, Cathy Erickson, who does event planning and in particular pet expos, will be bringing at least one dog as part of her presentation.
To attend, check in at one of the tables in the Meredith lobby or breezeway.
Participate in University accreditation
A review team from Drake's accreditors, the Higher Learning Commission, will be on campus today and tomorrow,  Oct. 23-24. Students will have an opportunity to provide input into the process during an open session today at 2 p.m. in the Cowles Reading Room. Learn more about the process here: http://oncampus.wp.drake.edu/2017/10/17/hlc-visit-nears-your-participation-is-important/
DBS Speakers hosts radio multimedia manager
Jeremy Bingaman, digital media manager for the Des Moines Radio Group, will discuss how he developed his multimedia skills on Tuesday, Oct. 24, at 7 p.m. in the TV Studio.
Content marketing guru to speak
Author, entrepreneur, and founder of the Content Marketing Institute, Joe Pulizzi is excited to share his expertise with Drake students and community members. Pulizzi recently published his fifth book, "Killing Marketing," that explains why many companies are dismissing old marketing methods in favor of a new, content-driven system. Join the E.T. Meredith Center for Magazine Studies in the Cowles Library Reading Room on Wednesday, Oct. 25 at 7 p.m. to hear Pulizzi talk about his new book, the color orange, and all things content marketing. The event is free and open to the public. Please email katie.bandurski@drake.edu with any questions. 
Build a haunted house in Innovation Studio
Stop by the Innovation Studio (Mer. 124C) 5-8 p.m. on Thursday, Oct. 26 to make a Haunted House from graham crackers and other materials – and win prizes! There were also be other spooky activities and treats.
Get ready for Halloween with DBS' Monster Mash
Drake Broadcasting System is throwing a Halloween party on Friday, Oct. 27, at 7 p.m. in Parents Hall of Olmsted Center. There will be a costume contest, food, drinks and music.
Have registration or advising questions? Get answers
There are two drop-in advising sessions scheduled in advance of spring registration: Thursday, Oct. 26, 12:30-2 p.m., and Wednesday, Nov. 1, 9-11 a.m., in Mer. 104.
Team officials introduce research project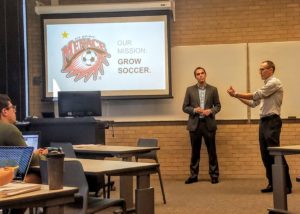 Members of the Des Moines Menace front office came to the Advertising Account Planning class to introduce a research project for the students. How do people learn about, then value, and perhaps embrace, a sport for its activity level or its social appeal or simply as entertainment?  Lyle Hunt, left, director of youth programs, and Adam Small, director of operations, shared some background and then answered students' questions before the class begins its qualitative work.
Alum provides real life examples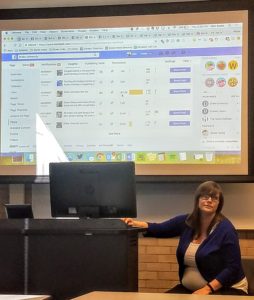 Niki Jobst Smith JO'08, GR '15, who works in public relations and social media for Drake's University Communications, provides examples of "social listening" to advertising students in Concepts in Consumer Awareness, using data from Drake accounts.
Have a news item for the Memo?
The SJMC Monday Memo is a weekly newsletter to keep members of the wider SJMC community updated on School news, achievements, events and opportunities. If you have an item for the Memo, please send it to Dean Kathleen Richardson (kathleen.richardson@drake.edu) or  SJMC webmaster and multimedia professor Chris Snider (christopher.snider@drake.edu). SJMC alums and other professionals can also contact Chris to have the Memo delivered via weekly email. 
The School of Journalism and Mass Communication strives to create a community of scholars that represents the complexity of the human experience in regards to race, ethnicity, sex, sexual orientation, economic status, gender identification, religion, age and physical abilities. We are committed to creating a welcoming and supportive environment for all our faculty, staff, students and visitors, and celebrating our differences through the lens of the First Amendment value of freedom of expression.