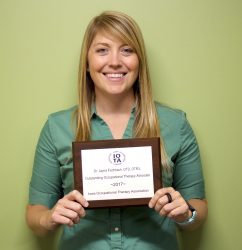 Assistant Professor of Occupational Therapy, Dr. Jayna Fischbach was named the Iowa Occupational Therapy Association's (IOTA) Advocate of the Year at its Fall Conference, held October 6-7, in Des Moines. The award recognizes a member whose efforts on behalf of the profession, represent a significant contribution to the achievement of the aims of occupational therapy in Iowa.
Her nominator stated, "Dr. Fischbach works non-stop to try to advance the science of OT and to advocate for the profession. She utilizes her knowledge and skill to recruit and activate us to join the 'movement' in regards to our practice and the populations we, as Occupational Therapists, serve."
Since joining Drake University in 2015, Fischbach has worked clinically at ChildServe in Johnston and during the past year has organized a group of staff from ChildServe to join the Drake OT faculty in pursuing advanced training at the STAR Institute for Sensory Processing Disorder in Colorado. She has also worked with two groups of OTD students to complete the initial phase of this research collaboration.
Fischbach serves as the IOTA webpage manager. She also has worked with the ALS Association to design training for caregivers of individuals with ALS. This training has been held at Drake University with OTD students educating caregivers. In addition, she has advocated for development of best practice standards for occupational therapy via a telehealth platform to meet the needs of rural Iowans.
She has also spearheaded building a "Community Resources" page on the Drake University Occupational Therapy webpage to provide learning and resources for practitioners and community members.
Dr. Yolanda Griffiths, Department Chair and Program Director of Occupational Therapy said, "Dr. Fischbach is a stellar role-model in actively advocating for clients, students, and other stakeholders. She is inspirational in her endeavors to get others actively involved."
Fischbach is involved in a number of volunteer activities including:
ALS Association Care Services Team Member
Des Moines University Physical Therapy Advisory Council Member
Drake University Health Sciences National Advisory Council Member
Des Moines Young Professionals
"Dr. Fischbach's receipt of this award recognizes her engagement in and advocacy for the occupational therapy profession, the IOTA, patients, and the OTD program at Drake," Dr. Renae Chesnut, dean of the College of Pharmacy and Health Sciences, said. "This is a well-deserved award as she has led several initiatives to develop OT professionals, services for the community and educational opportunities for students."