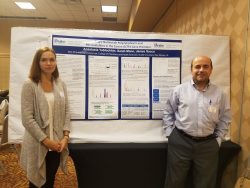 Anastasia Yablochkin, P3, won best poster award at the Central States Chapter of the Society of Toxicology held in Ames, Iowa on September 21-22.
Her poster titled "SINGLE NUCLEOTIDE POLYMORPHISMS AND MICROSATELLITES IN THE CANINE GLUTATHIONE S-TRANSFERASE PI 1 (GSTP1) GENE PROMOTER " was co-authored by another Drake University student, Sarah Mann, a senior biochemistry, cell and molecular biology major.
"This is a remarkable achievement, given the fact that she (Yablochkin) was competing with doctoral students and post-doctoral students," her mentor, Dr. James Sacco, assistant professor of pharmaceutical sciences, said. "A number of scientists remarked how well prepared and mature Anastasia was for an undergraduate and expressed their desire to see her continue on in higher education."
Yablochkin's poster originated from the Drake Undergraduate Science Collaborative Institute (DUSCI) Summer Undergraduate Research Fellowship Program when she was mentored by Sacco and Dr. Marc Busch, associate professor of biology in the college of arts & sciences.
DUSCI actively supports collaborative student/faculty research experiences, strives to increase scientific literacy, and provides opportunities to engage the larger community in science and math.
Her next presentation will be on Friday, October 20 at the DUSCI Colloquium Series.