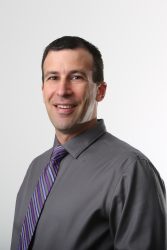 Nate Newman, Associate Professor of Athletic Training, Director of the Masters in Athletic Training Program
Dr. Newman joined Drake on August 1 as the Director of our new Masters in Athletic Training Program. Nate was previously the Director of the AT program at Loras College in Dubuque, Iowa. He earned his BS in Exercise Science from the University of Iowa, MS in Physical Education with an emphasis in Kinesiology from Western Illinois, and in 2015, an EdD in Allied Health, Recreation and Community Services from the University of Northern Iowa. Along with prepping for our AT program which starts in Fall 2019, Nate will be busy teaching health sciences courses and a First Year Seminar.
What is your role at Drake and what drew you here?
I am the Director of the Master's in Athletic Training program which I will spend the next two years constructing. The facilities, faculty, and students drew me to Drake where I am getting the opportunity to build the AT program I have dreamed of creating. Here I will get a chance to work with great healthcare faculty while having the resources to build an athletic training program that will prepare students for an exciting career in athletic training.
What excites you most about being here?
The chance to work in a college with multiple healthcare programs. This is going to allow our athletic training program be second to none in the state and one of the top in the region. We are going to have unique opportunities that will benefit our students. This includes concentrations to develop specialties in areas of athletic training while gaining valuable interprofessional education experiences with pharmacy and occupational therapy students.
You started this school year, what sticks out so far?
The faculty I get to work with. They are so talented and exciting to work with. They inspire me, have made me more creative, and they have been very helpful during my first two months on the job. They have made Drake feel like home already.
What makes your program unique?
There are a few things that will set us apart:
Ability to have an athletic training Master's degree in 5 years
Concentrations which will allow students to develop a specialization in athletic training
Hands-on experience with Division 1 athletes which doesn't always happen at D1 programs
Access to learning from 5 faculty members (one of the largest AT faculty groups)
Have you taken a picture with a Bulldog yet?
I haven't but my 6-year-old son took one during his first trip to campus.
Favorite spot on campus?
Looking out of my office I can see right into Drake stadium. It's one of the best views on campus.
What Drake tradition are you looking forward to experiencing?
Easy, Drake Relays. I am a huge track fan. Can't wait for April.