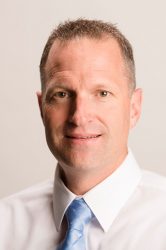 Michael Nelson, Assistant Dean of Student Affairs and Enrollment Management
Dr. Nelson earned his B.S. in Pharmacy from the University of Washington, and his Ph.D. from the University of Minnesota. He has held academic positions at Southwestern Oklahoma State University and Wingate University. He was most recently at Regis University where he served as Chair for the Pharmaceutical Sciences Department, which included a year of working in student affairs. Michael brings experience in facilitating student leadership, developing new programs, serving as an academic administrator and overseeing student services.
What is your role at Drake and what drew you here?
I lead a team of student services professional staff responsible for recruitment and enrollment of CPHS students and for support CPHS students from enrollment to graduation.
I was drawn to Drake mostly by the reputation of CPHS. During my career within pharmacy academia, Drake's pharmacy program consistently left me with an impression of excellence and professionalism whenever I had the opportunity to interact with either faculty or students at national meetings or other gatherings. In addition, the use of team-based learning (TBL) within the pharmacy program spoke highly to me of the commitment of CPHS faculty to engaged student-centered learning.
What excites you most about being here?
The opportunity to serve as a leader with the potential for motivating our outstanding team of student services staff to achieve great outcomes in enrollment and student affairs. It is a privilege to step into a position in which a highly functioning team has already been assembled, and I look forward to assisting as a servant leader to help the team reach their next level of excellence.
You started this school year, what sticks out so far?
Several things including the patience of everyone (students, staff, faculty) with my steep learning curve, the engagement of our students with all of their co-curricular opportunities, the collegial spirit of the college, and the large number of bulldog statues around campus.
What makes CPHS unique?
There are multiple distinctive features of CPHS including the ease and efficiency by which students may earn a dual degree, minor, or concentration; the many different ways our students can distinguish themselves with co-curricular opportunities; and the close-knit personal feeling of working with the staff and faculty.
If you had one piece of advice for students, what would it be?
Do not wish your time away. When I was a student, there were times I wished I had already graduated and was practicing and earning decent money. Looking back, my years in college were among the best in my life and I wish I had taken more advantage of the opportunities available to me as a health professions student.
Have you taken a picture with a Bulldog yet?
Yes. It was a selfie on my first day, and is currently my Facebook profile photo.
Favorite spot on campus?
I really need more time to figure this one out, but so far I really enjoyed a visit to the Alumni House on University Avenue. However, I'll never forget the first time I walked into Oreon E. Scott chapel near CPHS. The chapel is a brilliant combination of fascinating and creepy. Check it out.
What Drake tradition are you looking forward to experiencing?
Drake Relays and running the half-marathon associated with the Relays.