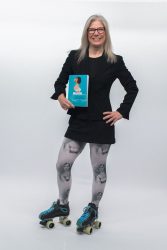 Jane Austen's novels have sold millions of copies worldwide and inspired dozens of Hollywood movies. How did she become the celebrity author and global inspiration that she is today?
Devoney Looser, author of The Making of Jane Austen, will discuss her book as well as popular culture's fascination with all things Jane Austen during a free public lecture at Drake University next week.
The lecture will begin at 5:30 p.m. Wednesday, Oct. 11. in the Cowles Library Reading Room, 2725 University Ave., and is presented as part of Drake's Susan Glaspell Writers and Critics Series.
Looser's writing on Austen has appeared in The Atlantic, The New York Times, and The Times Literary Supplement. Publishers Weekly recently named The Making of Jane Austen to its "Best Books of Summer 2017" list (nonfiction). She is a professor of English at Arizona State University.
"Since Professor Looser's scholarly work on Jane Austen combines academic and pop culture analysis of Austen's writing, I think anyone who has enjoyed Austen's work, or adaptations of her work, would find Looser's talk appealing," said Yasmina Madden, assistant professor of English and director of the Susan Glaspell Writers and Critics Series. "Also, you may get to hear about Looser's roller derby alter-ego, Stone Cold Jane Austen."
WRITERS & CRITICS SERIES 2017-18
• Feb. 21, 2018: Ocean Vuong, author of the best-selling Night Sky with Exit Wounds. 7 p.m., Cowles Library Reading Room
• March 29, 2018: Casey Plett, author of the short story collection A Safe Girl to Love and co-editor of the anthology Meanwhile, Elsewhere: Science Fiction and Fantasy from Transgender Writers. 7 p.m., Cowles Library Reading Room.