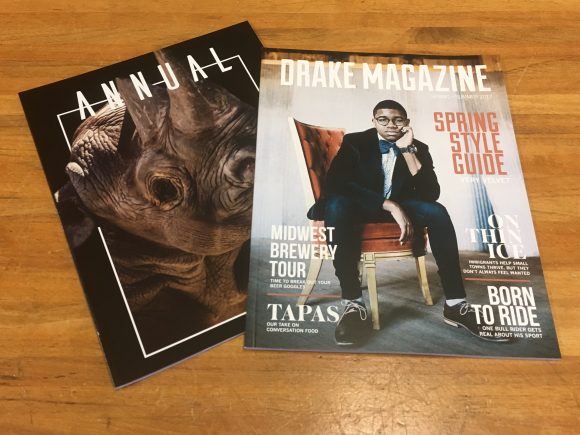 Drake students finalists for national awards
Drake student work was once again among the finalists for the Associated Collegiate Press Pacemaker awards, the top awards in college journalism. The finalists and categories:
Online Finalists:
Urban-Plains.com

DrakeMagazine.com
Magazine Finalists:
Drake Magazine

The Annual
Best Infographic Finalist: 
Linzi Murray, JO'17, Drake Magazine
Best Magazine Cover Finalist: 
Maddie Hiatt, magazine and graphic design junior, Drake Magazine
The winners will be announced at the Associated Collegiate Press/College Media Association annual convention on Oct. 25-29 in Dallas.
Get help to build your own business
In the Lorentzen Student Hatchery, Drake students have the opportunity to spend a summer building their own business. The Hatchery provides a unique experience for any Drake student – undergraduate or graduate – to earn up to $10,000 over the 2018 summer while working for themselves. Both teams and individuals are welcome to apply. Information sessions will be held at 6 p.m. on the following dates in the Innovation Studio, 124C Meredith:
Tuesday, Sept. 26
Wednesday, Oct. 11
Tuesday, Oct. 24
Download an application and learn more at https://wwww.drake.edu/cbpa/centers/lorentzenhatchery or contact the Entrepreneurship Centers at jpec@drake.edu.
Rainbow Welcome to Drake
Rainbow Union, Drake Alumni and campus partners for equity and inclusion are hosting a reception for new LGBTQ students and allies, faculty, staff, and alumni. The reception is Wednesday, Sept. 27, 7-9 p.m. in Cowles Reading Room. 
Have ideas on how to improve the First-Year Experience?
The Office of Institutional Research and Assessment invites faculty, staff and students to a workshop on Thursday, Sept. 28 in Cowles 201 from 2-3 p.m. This is an opportunity for the campus community to identify ways to enhance the first-year student experience based on institutional data. Come and connect with people from around campus. This is a casual event with catered snacks and beverages where attendees will have conversations about First-Year Student data and how these data can drive university change and maximize the first-year experience. Selections of data come from the Drake Student Survey and the National Survey of Student Engagement.
If you plan on attending, you may register using the following EventBrite link:
https://www.eventbrite.com/e/first-year-experience-drake-student-survey-workshop-registration-37847812827
Survey, forum on revised Drake Curriculum
Student Senate is conducting a survey and hosting a forum on proposed revisions to the general education curriculum. The forum will be held Tuesday, Oct. 3, at 7 p.m. in Parents Hall of Olmsted Center. Contact SJMC senator Jake Bullington (jacob.bullington@drake.edu) if you have any questions.
Take advantage of reporting workshop
Investigative Reporters and Editors (IRE) is hosting a workshop in Des Moines on Saturday, Sept. 30 and Sunday, Oct. 1. Sessions cover such topics as computer-assisted reporting, social media and using public records. For more information and to register, see https://ire.org/events-and-training/event/3444/.
Have a news item for the Memo?
The SJMC Monday Memo is a weekly newsletter to keep members of the wider SJMC community updated on School news, achievements, events and opportunities. If you have an item for the Memo, please send it to Dean Kathleen Richardson (kathleen.richardson@drake.edu) or  SJMC webmaster and multimedia professor Chris Snider (christopher.snider@drake.edu). SJMC alums and other professionals can also contact Chris to have the Memo delivered via weekly email. 
The School of Journalism and Mass Communication strives to create a community of scholars that represents the complexity of the human experience in regards to race, ethnicity, sex, sexual orientation, economic status, gender identification, religion, age and physical abilities. We are committed to creating a welcoming and supportive environment for all our faculty, staff, students and visitors, and celebrating our differences through the lens of the First Amendment value of freedom of expression.