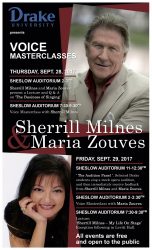 World-famous operatic baritone Sherrill Milnes and his wife, soprano Maria Zouves, will hold a series of public lectures and masterclasses during their first visit to the University in 13 years. Milnes, a 1957 Drake alumnus, and Zouves last visited the University in 2006; their current visit is scheduled for Thursday, Sept. 28, and Friday, Sept. 29.
Highlights of the two-day visit include:
A free public lecture titled "Sherrill Milnes – My Life on Stage" at 7:30 p.m. Friday, Sept. 29 in Sheslow Auditorium. A reception will follow in Levitt Hall.
A voice masterclass with Milnes at 7:30 p.m. Thursday, Sept. 28, in Sheslow Auditorium.
The visit will also include a lecture and Q&A session on "The Business of Singing" at 2 p.m. Thursday, Sept. 28; an opportunity for selected Drake students to sing a mock opera audition and receive feedback from Milnes and Zouves on Friday at 11 a.m.; and a voice masterclass with Zouves at 2 p.m. on Friday; all events are open to the public and located in Sheslow Auditorium.
"Sherrill Milnes and Maria Zouves have so much knowledge, experience, talent to share with our students," said Ann Cravero, associate professor of voice and director of the Drake Opera Theatre. "It's an honor to be able to share this with the community as well."
Cravero served as assistant director to Milnes and Zouves at the Prague Summer Nights Music Festival and on the faculty at their Savannah Voice Festival in 2016; it's through this relationship that Milnes and Zouves were welcomed back to Drake.
Milnes has sung over 650 performances at the Metropolitan Opera in New York City and is the recipient of three Grammy awards. He has performed in opera houses all over the world, including London, Milan, Berlin, Paris, Buenos Aires, Barcelona, Salzburg, Hamburg and Moscow. He has also appeared with opera companies throughout the United States. He was the 2008 recipient of the "Opera News" Award for Distinguished Achievement.
Zouves is a Greek-American educator, director, producer and writer. She has performed at Carnegie Hall and throughout the United States, as well as directed, taught and produced events throughout the world in places such as Canada, Italy and Finland. Zouves served as vice president and associate general director of Opera Tampa from 2007 to 2011.
Together, Milnes and Zouves co-founded and run the Sherrill Milnes VOICE Programs, the VOICExperience Program and the Savannah VOICE Festival, to provide opportunities for young artists. Milnes and Zouves also give numerous masterclasses and mentor young artists, and Milnes judges competitions.
A native of Downers Grove, Ill., Milnes received his Bachelor of Music Education degree from Drake in 1957 and his Master of Music Education degree, also from Drake, in the following year.