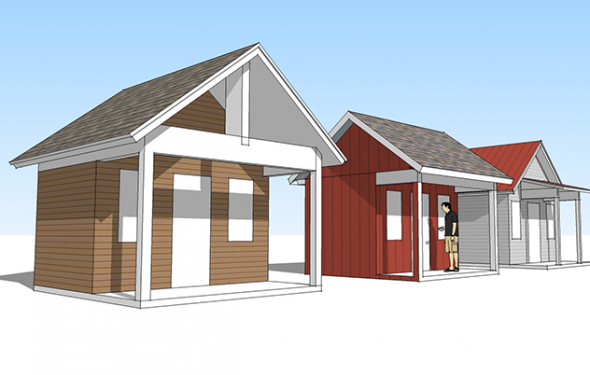 More than 100 members of the Drake University community will pitch in next week on a project to benefit homeless individuals in Des Moines. Students, faculty, staff members, alumni, and others will build three tiny homes for Joppa, a nonprofit organization that helps homeless people survive, get housing and rebuild their lives. 
Members of Drake's football team will help unload the raw materials for the homes on Sunday, Sept. 10, and volunteers will work throughout the week to build the homes from the ground up. The work-site for the volunteer effort is near the intersection of 26th St. and University Ave., in a parking lot on the site of a future mixed-use development by Nelson Construction & Development; Nelson has volunteered key construction personnel to assist with the home build project.
The tiny homes are expected to be completed on the University's DU Good Day, a national day of service celebrated Saturday, Sept. 16. Joppa is evaluating potential sites around the Des Moines area for the homes to be clustered as a transitional village, where residents are meant to live temporarily while they overcome homelessness and other obstacles to housing. 
"We are very excited about this opportunity to harness the potential of the Drake community to have a powerful and tangible impact on the lives of those in need," said Andy Verlengia, director of alumni relations.
Each of the three tiny homes will measure 8' by 12', have a footprint of approximately 100 square-feet, and feature a vaulted ceiling, electricity, heating, four windows, and a small porch. 
"Everyone at Drake University has been very supportive, from the alumni team, to the students, to the facilities staff," said Ashley Panzi, spokesperson for Joppa. "We look forward to this wonderful project next week."
Nationally, DU Good Day will be celebrated in 11 cities, with Drake alumni and friends in each city working on community service projects. More information is available online.