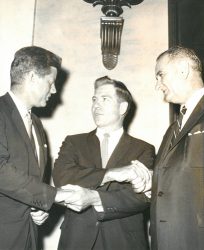 Drake University Law School will host "A Celebration of Congressman Neal Smith" on Sept. 21, 7 p.m., at Sheslow Auditorium in honor of Neal Smith, former U.S. congressman and a Drake Law alumnus. The event is free and open to the public.
The program will feature selections from Visionary of Shared Dreams: He Helped Government Work Better, a videotaped interview with former Drake Law Dean David Walker.
In the interview, Smith reveals details of his nearly four decades in public service, including his work with other members of Congress, U.S. Supreme Court justices, and U.S. presidents.
He also recalls his childhood growing up on a farm in Iowa during the Depression, enlistment in the military during World War II, and legislation he worked on in Congress.
"Neal Smith's impact on Iowa and the nation is huge," Walker said. "His legacy includes legislation on subjects ranging from food safety to economic development to agriculture and education. It also includes support for Iowa's universities and development of projects such as Saylorville Lake and the National Wildlife Refuge that bears his name."
The video interview is a project of Drake Law School, with support from the Des Moines law firm of McKee, Voorhees & Sease, P.L.C. Walker co-produced the video with F. Richard Lyford, while Marc S. Harding served as the videographer.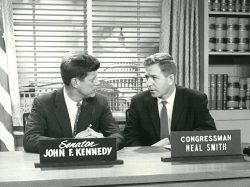 "This project has created an important historical treasure that will add much depth to our understanding and appreciation of Congressman Smith's impressive legacy," said Jerry Anderson, dean of Drake Law School.
Smith was born in Hedrick, Iowa, in 1920. After the attacks on Pearl Harbor, he put aside his college plans and joined the Army Air Force, serving for three and a half years and earning a Purple Heart, nine Battle stars, and the Air Medal with four oak leaf clusters.
With support from the G.I. Bill, Smith earned his undergraduate degree and enrolled at Drake Law School with his wife, Bea. While at Drake, he formed a Young Democrats Club and campaigned for President Harry S. Truman. He later served as president of the National Young Democrats Organization.
The couple graduated in 1950 and went into private practice together. In 1958, Smith was elected to Congress. He gave up his practice and moved with Bea to Washington, D.C.
Called "the quintessential problem solver," Smith worked within and across party lines to address the critical issues of his time in both domestic and foreign affairs. He authored or worked on landmark legislation, especially in the areas of agriculture, education, and small business.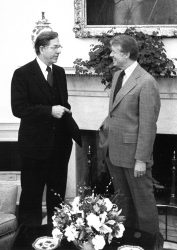 "Congressman Smith's goal was always to help government work better, and he did," Walker said.
Smith was a member of Congress until 1995, becoming the longest-serving Iowan in the U.S. House of Representatives.
Over his career, Smith has given back to Drake Law School in myriad ways. He sponsored legislation leading to the establishment of the Drake Constitutional Law Center in 1989. The center continues to host lectures bringing the nation's leading experts in constitutional law to campus.
In addition, Smith was instrumental in helping the Law School receive congressional appropriations to support clinical programs. Under faculty supervision, Drake Law students represent low-income persons who need legal assistance in the areas of children's rights, elder law, criminal defense, and more.
The appropriations also helped endow a 40,000-square-foot building—aptly named the Neal & Bea Smith Law Center—to house the legal clinic as well as Drake's on-campus courtroom.
In recognition of their support, Neal and Bea Smith were named Drake Law Alumni of the Year in 1987.
For questions about the event, contact Theresa Howard at theresa.howard@drake.edu or 515-271-3985.