National search for replacement to begin this fall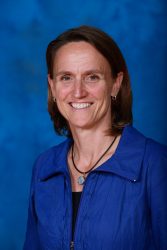 Des Moines, Iowa (Aug. 1, 2017) – After more than a decade at the helm of Drake University Athletics, Sandy Hatfield Clubb will be leaving the university, effective this Friday. She has accepted a senior partner position with the Pictor Group, an intercollegiate athletics consulting firm, effective Aug. 7. Associate Athletics Director Megan Franklin will serve as Drake's interim athletic director; a national search to fill the permanent athletic director role will begin this fall.
"Sandy has served the University, our student-athletes, and this community well. I want to thank her for such strong leadership, passion, and dedication to the program," said Drake University President Marty Martin. "I think highly of Sandy and wish her and her family all the best in the future."
"I am proud to have been a Bulldog for the last 11 years and sincerely thank the many student-athletes, coaches, staff, fans, donors, and everyone who has helped grow Drake Athletics," said Hatfield Clubb. "We have built a strong foundation together, and I'll be cheering the Bulldogs on as their success continues. The city of Des Moines has been an extraordinary place to raise our children, and I will be forever grateful to this community."
Notably, Hatfield Clubb was the first female athletic director for a combined athletic department in Iowa. Prior to joining Drake in 2006, Hatfield Clubb had risen to the role of senior associate director of athletics at Arizona State University, a program she had joined in 1990 as management intern.
During her 11 years at Drake, Hatfield Clubb and her staff amassed many notable accomplishments, including:
Hiring Jennie Baranczyk, who coached the women's basketball team to a record-breaking season and return to the NCAA Tournament while maintaining a 3.7 GPA and performing 1,000 hours of community service
Creating numerous opportunities for student-athletes to participate in academically oriented trips abroad, highlighted by the 2011 football team's participation in a transformational trip to Tanzania that included youth clinics, community service, home-stays, a 6-day trek to summit Mt. Kilimanjaro, and a bowl game
Raising over $25 million for capital projects and operations, including construction of the $8.3 million Shivers Basketball Practice Facility and the renovation of every sport's competitive athletics facility
Increasing corporate partnerships by over 200 percent
Expanding the Drake Relays presented by Hy-Vee, including corporate sponsorships and a broadcasting agreement with USA Track and Field
Hosting numerous national championship track and field events, including NCAA Track and Field National Championships and USATF National Championships
Earning the Missouri Valley Conference Academic Award three times, as the athletic department with the highest grade point average
While at Drake, Hatfield Clubb was selected by the Missouri Valley Conference and Pioneer Football League to serve on the NCAA Division I Council, and appointed by the NCAA Council to chair the Strategic Vision and Planning Committee (2015–2017) and, most recently, the Women's Basketball Oversight Committee. Additionally, Hatfield Clubb has been active in serving the community as a board member for the Robert D. & Billie Ray Center, Community Foundation of Greater Des Moines, United Way of Central Iowa, Meals from the Heartland, and the Greater Des Moines Convention and Visitors Bureau.
Hatfield Clubb has been recognized locally and nationally for her accomplishments including Under Armour Athletic Director of the Year for the Football Championship Subdivision (2013–2014), Woman of Influence by the Des Moines Business Record (2010), Louis Noun Visionary Woman by Young Women's Resource Center (2016), Robert D. Ray Pillar of Character (2015), and the B'Nai Brith Hall of Fame (2007) for being named the first female Division I athletics director in Iowa.
Note: Hatfield Clubb will be available to talk with reporters from 1 to 1:30 pm today, in the Drake University Alumni House, 2700 University Avenue.