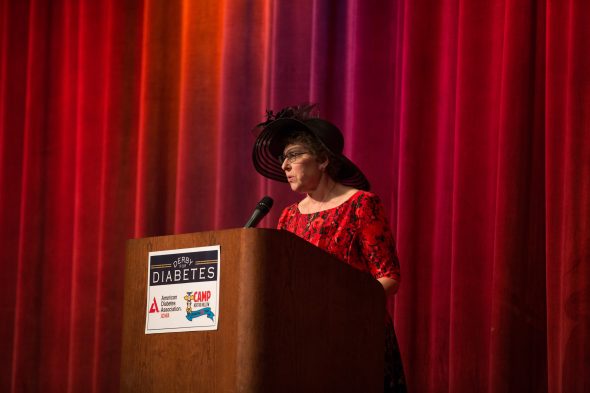 Professor Emeritus of Pharmacy Practice June Johnson has been awarded the 2017 Dr. Edward J. Hertko Lifetime Service Award from the American Diabetes Association. She received the award in May at the Derby for Diabetes, a Kentucky Derby party that benefits the association.
The award is given annually to a volunteer who has been crucial to the Association's success for many years. Johnson has been president of the association's board since 2015 and serves as their official spokeswoman regarding latest diabetes research and medical advances.
Johnson was selected for the Hertko award not only for her service to the American Diabetes Association, but also for her service on behalf of those affected by diabetes as a whole, including her devoted mentorship to countless students during 22 years on the Drake faculty.
"Dr. Johnson is one of Iowa's foremost experts on diabetes, and we are grateful for her tenure as a key volunteer for our Association," said Doug Bickford, executive director for the Iowa, Nebraska and South Dakota branches. "She has made a significant impact in the field of diabetes, whether it is imparting her wisdom upon students or keeping up with the latest and greatest research. Her contributions to our Association is unmatched and she is very deserving of this award."
Johnson is a longtime volunteer with the American Diabetes Association's "Diabetes Busters" program, which teaches fourth-graders to develop healthy lifestyles that reduce lifetime risk of diabetes. She says the program is an important to combat the epidemic of diabetes, which has reached more than 30 million Americans and is projected to effect 1 in 3 children born today.
"Planting seeds for healthy living must begin with children," Johnson said. "I believe community service programs like 'Diabetes Busters' have the greatest potential for impact on future generations to lower the risk and burden of diabetes."
In addition, Johnson has been a longtime volunteer for Camp Hertko Hollow, where she served as a medical staff volunteer, preceptor to pharmacy students, and director of pharmacy operations during the two-week diabetes camp.
Dr. Johnson joined the Drake CPHS faculty in 1995 after serving as clinical pharmacy specialist in geriatrics at Rochester General Hospital in Rochester, New York. Prior to her career at Drake, she was on the pharmacy faculty for State University of New York at Buffalo. While at Drake, she was instrumental in the creation of and co-coordinated Drake's unique diabetes concentration, and in 2010, was promoted to professor of pharmacy practice. She retired from Drake in June 2016.
"Drake students have constantly been an inspiration to me," Johnson said. "They are exceptional people, they care about their future pharmacy profession and their communities, and many of them commit a tremendous amount of effort not only to engaging with their coursework but also to professional and service organizations. I am constantly in awe of their achievements and have done my best to be available for advice, support, and encouragement in their professional and personal lives."
About Ed Hertko
Dr. Edward Hertko had a special interest in diabetes since his mother and brother had diabetes. He moved to Des Moines, Iowa in 1960 and began to take care of many persons with diabetes. Around 1963-1964 he, with the help of the Iowa Dep't of Public Health, started the first diabetes support groups which, subsequently became the Iowa Diabetes Association in 1968. Also in 1968 he started asking persons in the medical community about a camp for children with diabetes. The rest is history . . . and 50 years later Camp Hertko Hollow remains one of the preeminent camps for children with diabetes in the country.