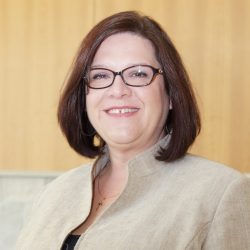 Drake University Provost Sue Mattison announced today that Christina Trombley has been named executive director of the University's online education programs effective August 14. Trombley currently serves as assistant vice chancellor for the University of Wisconsin (UW)-Green Bay, where she leads student recruitment, enrollment, and retention efforts. She has worked within the UW system for nearly two decades, and will bring a wealth of administrative experience to Drake, particularly in successfully launching, managing, supporting, and expanding online degree programs.
"Christina's expertise in assessing and monitoring outcomes, while holding and supporting high educational standards, will ensure successful online programming at Drake," Provost Mattison said. "Most importantly, Christina values building relationships with faculty and staff, and doing so in a way that focuses on ensuring an exceptional learning experience for online students. I am so pleased she will be joining our leadership team at Drake."
At UW-Green Bay, Trombley currently serves as the senior enrollment officer and chairs the enrollment management steering council, in addition to leading a team of approximately 60 staff. She has previously served as interim dean for outreach and adult access; director, adult degree program; and director, Small Business Development Center. Prior to joining the Green Bay campus, Trombley had served as business education outreach coordinator for the University of Wisconsin-La Crosse, in addition to earlier career experiences working in marketing and public affairs in corporate, nonprofit, and healthcare.
"The stellar reputation of Drake University is well-deserved with their efforts on student success," Trombley said. "I am excited to work with the faculty and staff to bring those same efforts to adult and distant learners, helping them to access the wonderful learning experiences at Drake."
Trombley earned a master's degree in business administration from the University of Wisconsin-La Crosse, and a bachelor's degree in communication from the University of Wisconsin-Eau Claire. Trombley is completing her doctoral studies in education through the University of Wisconsin-Milwaukee. Her dissertation focuses on faculty perceptions and experiences teaching a mix of traditional and nontraditional students in online classes.
Earlier this year, the Drake University Board of Trustees approved the creation of a centralized unit focused on delivering online education in an exceptional way consistent with the University's strong reputation for academic excellence. A website dedicated to Drake's online programs will debut this fall. In January 2018, Drake will launch an online master of arts degree in communication leadership from the School of Journalism and Mass Communication with tracks in leadership, brand communication, science writing, and public affairs and advocacy. Drake will also launch an online master of science degree from the School of Education with an emphasis in literacy and English as a second language. Other online degree programs, including the Master of Public Administration and a new master's degree in data analytics leadership, will follow.