P4 Annie Stella received the 2017 Karbeling Leadership Award, and it's easy to see why.
When Drake P4 student Annie Stella received the 2017 Karbeling Leadership Award from the Iowa Pharmacy Association (IPA), she was surprised, humbled, and honored. It signified that she—out of all Drake pharmacy students—is someone to watch. But what meant the most to her about this award its name, honoring Drake alumnus Jerry M. Karbeling, PH'74, who passed away in 2005.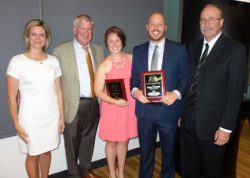 Stella has been involved with the IPA since her P1 year, serving as both an intern and as an extremely involved member. She's served in IPA's House of Delegates (the policy making body of the Association), on various committees, and her name has been attached to several statewide legislative initiatives. Throughout her work, she's repeatedly heard about the late Jerry Karbeling.
"I honestly don't feel deserving," Stella says. "Hearing so much about Jerry, if someone sees a glimpse of that in me, I'm very honored."
Karbeling, she learned, was basically a "walking encyclopedia." One could approach the IPA member with any question relating to policy and he would find some relevant information somewhere in his office. However, it was his people skills Stella most admired.
"He made people feel valued," she says of a common theme in the stories of Karbeling. "You never left a conversation with Jerry without feeling important."
The award, set up in his honor after his death in 2008, is given annually to one Drake pharmacy student and one University of Iowa pharmacy student who have shown themselves to be exemplary in terms of work and involvement in both professional organizations and in the political process. Stella's policy work extends beyond the IPA to American Pharmacists Association, which works on a national level. Both organizations lobby representatives on legislative priorities for pharmacists and take stances on state or national issues as a collective.
In the future, Stella hopes to create policy regarding the prevention of pharmacy robberies, and she has passionately worked on the drug disposal program within Iowa. As her out-of-state relatives know, it is rare to see such a program implemented statewide, and she says they often come to her with questions about expired or unused prescriptions.
"It's interesting to see how some of the things I've been working on policy-wise come to fruition," she says. "You really can have an impact as a student. It's powerful to see."
Stella says she's been given uncommon opportunities as a student to impact the pharmacy profession nationally, and that experience sets her apart from her peers. While she envisions her future in critical care and trauma for patients with limited access to the health care system, she says her policy experience will stick with her.
"It will very much remain a part of what I do. It may not be my sole job, but who knows?"