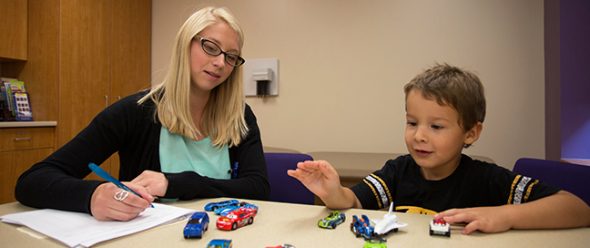 Drake University today announced the launch of a new graduate-level program in applied behavior analysis, with courses toward a master's degree and professional certificate beginning in fall 2017. State education and healthcare officials laud the program as a major step toward meeting the need for certified behavior analysts to serve the estimated 22,500 Iowa children with significant behavior challenges, including as many as 12,000 children with autism.
"Drake's Master of Science in Applied Behavior Analysis program will help graduates meet a critical workforce need in the state of Iowa, and just as importantly, will give caregivers the highest level of training to benefit thousands of Iowans with need for behavior services," said Drake University Provost Sue Mattison.
Applied behavior analysis lends itself to career fields ranging from child welfare to geriatrics to organizational behavior management; Drake's program will prepare students for success in all those areas. Students who complete the two-year program will be prepared to sit for the exam to become a Board Certified Behavior Analyst (BCBA®).
Drake University is uniquely positioned to offer the program due to the University's location in central Iowa; its strong partnerships with school districts, AEAs, medical providers, and other organizations who offer behavior services; and a strong undergraduate program through which faculty experts and students have done in-depth work in both research and clinical settings.
The master's program is a crucial building block in a 10-year plan by state education officials to train more certified behavior analysts.
"Fewer than one-third of Iowa children who would benefit from BCBA services are currently receiving care through their local school district or Area Education Agency," said Sean Casey, a consultant in challenging behaviors at the Iowa Department of Education. "Drake's program will provide a sustainable pipeline for new talent in the workforce."
Autism services are one of the state's most pressing workforce needs. As many as 1 in 68 children have autism, according to the Centers for Disease Control and Prevention—that translates to more than 12,000 children in Iowa. The Iowa legislature this year passed a new law requiring employer-provided health insurance plans to cover treatment for autism services, a move that is expected to further increase the demand for services.
"[Applied behavior analysis] is really much broader than just working with people with autism," said Evelyn Horton, vice president of children's services at The Homestead, one of the state's largest private service providers for children with autism. "But if you look only at the autism population, our ability to serve children with what's known to be the most effective intervention has been greatly hampered by the fact that there have not been enough BCBAs to do the job … There really is a great need for Drake's program."
Dr. Nate Noble, medical director at Blank Children's Developmental Center, said doctors like him are available to make autism diagnoses; but too often, there's nobody to provide treatment. He said being a child with autism in Iowa is like running a marathon on a 100-degree day, and water stations set up along the course fail to provide hydration.
"Kids will come in to see me, and I'll give them a diagnosis—which in the marathon analogy, is an empty cup," Noble said. "Without anyone to give them the treatment they need, it's like there's no water to put in the cup. We need more staff members to provide treatment, and Drake's program is the first major step toward addressing this problem."
Drake expects to enroll 10 students for fall 2017, 15 students for fall 2018, and 20 students per year starting in fall 2019. A full-time program director and faculty member with specialization in challenging behavior analysis will join the program on August 1. The program is set to grow to three full-time faculty members by fall 2019. The program will also be offered as a certificate, for working professionals who already have a master's degree in education or psychology.
Drake's program will offer intensive, in-person classroom instruction that is highly valued by both students and employers.
"Students learn so much from each other in the classroom," said Horton, of The Homestead. "And you get to build a connection with a professor who sees your spark and fans it into a flame."
The Iowa Department of Public Health expects to have funds available this year to help offset the cost of tuition for students who are accepted to, or enrolled in, applied behavior analysis programs. Interested students must apply to an IDPH request for proposal process, which is expected to begin in late summer or early fall. More information is available on the program website.