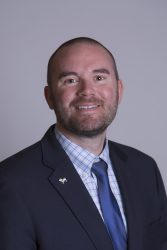 Drake University Provost Sue Mattison has appointed Jerry Parker to the position of dean of students at Drake University. Parker has worked toward the betterment of students at Drake and at several other institutions across the nation since starting his career in higher education in 2006. He formally assumed the role of dean of students in May 2017.
Parker has fulfilled several different roles at Drake since he joined the staff in December 2014, but all of his positions have had an emphasis on working closely with students and student leadership to ensure an atmosphere of inclusion and excellence at the University. Most recently, Parker had served as the interim dean of students since September 2015.
Parker has conducted himself with the professionalism and enthusiasm necessary to excel in the dean of students role. His sustained commitment to Drake and clear plan for the future made him stand out among the other qualified candidates, Mattison said.
"Jerry has proven himself to be a tremendous professional who consistently goes above and beyond to serve our students and the University," Mattison said. "I'm inspired by his strong vision and leadership."
Prior to joining the Drake staff, Parker held roles in student affairs at Texas State University, St. Mary's University, Iowa Wesleyan College, Texas A&M University, and Des Moines University. He has also taught numerous courses, in subjects such as leadership development, civic engagement, American government. At Drake, he has received the Division of Student Life's Outstanding Innovation Award and Outstanding Achievement Award; he is currently serving a two-year term as giving voice chair on the Iowa Campus Compact's executive board.
Parker plans to continue to use co-curricular engagement—the integration of academic and extracurricular activities—to foster an inclusive environment for students of all backgrounds on Drake's campus. He will also focus on the budgetary and risk management side of the position.
"I am humbled and honored to continue my service at Drake alongside passionate educators and colleagues, and most importantly, our civic-minded and highly engaged students who truly make a difference as global citizens," Parker said.