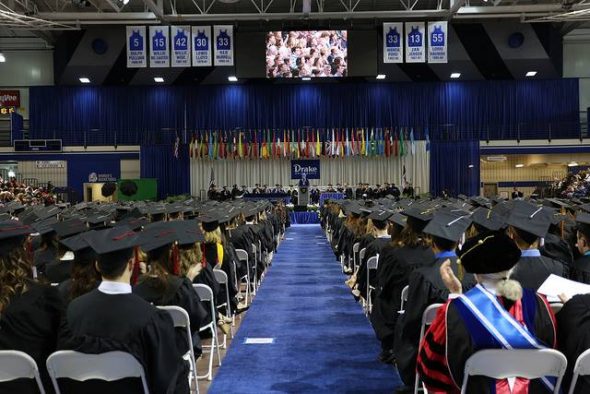 Drake University will award 1,199 undergraduate, graduate, and doctoral degrees at its 2017 commencement ceremonies to be held Friday, May 12, and Saturday, May 13, in The Knapp Center, 2525 Forest Ave. A highlight of the undergraduate ceremony at 10 a.m. Saturday will be the presentation of honorary degrees to Benjamin B. Ullem, respected Iowa lawyer and educator, and Larry D. Zimpleman, retired president, chairman, and CEO of Principal Financial Group.
"As we gather to celebrate the achievements of our Class of 2017, it is an honor also to recognize Benjamin B. Ullem and Larry D. Zimpleman, two loyal Drake alumni who have contributed immensely to their respective professions, to the educational richness of their alma mater, and to our community," said Drake University President Marty Martin. "These leaders exemplify the aspirations of Drake's mission statement to prepare students for meaningful personal lives, professional accomplishment and responsible global citizenship."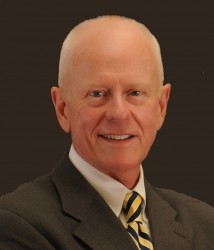 Ullem, who earned a liberal arts degree from Drake in 1966 and a Juris Doctor from Drake Law School in 1969, will receive an Honorary Doctor of Laws in recognition of his tireless work to advance the legal profession and the state of legal education here in Iowa.
Ullem was a senior partner at Whitfield & Eddy, P.L.C., a Des Moines, Iowa law firm, from 1969 until his retirement in 2014. He is an experienced legal practitioner in the areas of business, construction, corporate, fidelity and surety, insurance, real estate, and mergers and acquisitions.
A Drake Bulldog through and through, Ullem has served Drake in numerous leadership capacities, including two terms as dean of the Law School and more than two decades of service on the University's governing board. He has received Drake's Alumni Loyalty Award and Distinguished Service Award—the highest honor given to Drake alumni.
In addition to his professional activities, Ullem has been involved in community service as past president of the Des Moines Jaycees, member of the board of directors of the Greater Des Moines Partnership, member of the inaugural class of the Greater Des Moines Leadership Institute, board member and past president of the Des Moines Embassy Club, and numerous other philanthropic, for-profit, and non-profit boards, commissions and organizations. In January 2015, Ullem was named one of The Des Moines Register's "15 to Watch in 2015."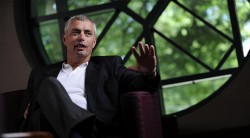 Zimpleman, who earned undergraduate and graduate degrees from Drake in 1973 and 1979, respectively, will receive an Honorary Doctor of Humane Letters in recognition of his visionary corporate leadership and his philanthropic commitment to enriching Drake University and numerous other community organizations in the state of Iowa.
Born and raised in Williamsburg, Iowa, Zimpleman received a bachelor's degree in actuarial science from Drake University in 1973 and a master of business administration in 1979. He joined Principal as an intern in 1971 and worked his way through the ranks, masterfully leading the organization through the Great Recession. He ushered in a period of growth for the Fortune 500 global financial investment company, which has continued beyond his retirement as president and CEO in 2015 and as chairman of Principal's Board of Directors in 2016.
Zimpleman has served as a member of the Drake University Board of Trustees since 2006, including a term as board chairman from 2012 to 2016. From 2010 to 2015, he served as co-chairman of the distinctlyDrake campaign, which raised $216 million in philanthropic support for the University. As part of that campaign, he and his wife, Kathi, a 1976 Drake alumna, made a $1 million contribution to Drake to support international programs and services.
Honorary degree recipients were selected by the Honorary Degree and Drake Medal Committee, and approved by the Faculty Senate and Board of Trustees.
Commencement ceremonies and activities to honor graduates
Drake University will provide live and archived streaming video coverage of all four ceremonies. Live coverage will begin approximately 30 minutes prior to the start of each ceremony at www.drake.edu/stream. The schedule of events is as follows:
Friday, May 12, 4 p.m. — Pharmacy Hooding Ceremony. Highlights include special remarks by Kate Gainer, executive VP and CEO of Iowa Pharmacy Association; Nancy Bell, a 1990 Drake alumna who serves on the CPHS National Advisory Council; and Associate Professor of Pharmacy Practice Erik Maki, the college's 2016-17 Faculty Preceptor of the Year. Graduating PharmD candidates Brady Oates, Elizabeth Bald, and Jackie Shine, delegates of the college's Student Governance Association, also will speak.
Friday, May 12, 7 p.m. — The Law School Commencement. Highlights include special remarks by Iowa Supreme Court Justice Bruce Zager, who earned his Juris Doctor from Drake Law School in 1980. The Drake Law class of 1967 will be honored in recognition of their 50th anniversary since graduation.
Saturday, May 13, 10 a.m. — The 142nd Commencement Ceremony for Undergraduate Students. Program highlights include the awarding of honorary degrees to Benjamin B. Ullem and Larry D. Zimpleman, and special remarks by Oreon E. Scott Award Winner Jackie Heymann, Class of 2017.
Saturday, May 13, 2 p.m. — The 142nd Commencement Ceremony for Graduate and Doctoral Degree Recipients. Program highlights include special remarks by Drake University Provost Sue Joseph Mattison.
More information is available at www.drake.edu/commencement.