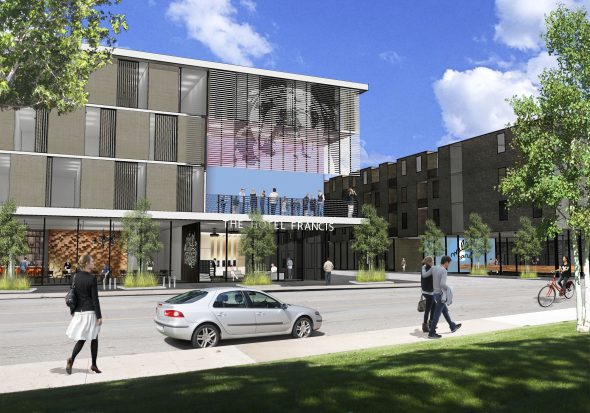 Drake University has agreed to sell two parcels of University-owned land to Nelson Construction & Development, which plans to build a hotel, market-rate apartments, and urban-style row houses on the site. Initial conceptual renderings from the Des Moines-based developer also call for retail spaces and parking on the site, which boasts spectacular views of Drake's iconic Old Main.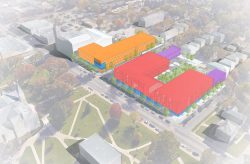 Drake sought proposals from 11 Iowa firms to develop 2.65-acres of University land, which neighbors First Christian Church on the south side of University Avenue and crosses 26th Street on the west. Drake University President Marty Martin said Nelson's proposal aligns with the University's vision for development in the Drake Neighborhood.
"Nelson's proposed development provides a tangible and viable way for Drake to integrate more fully with our surrounding neighborhood and engage with the community—a key objective of our Continuous Improvement Plan," said Drake University President Marty Martin. "We look forward to working with Nelson on this project that will catalyze economic development in the area and enhance the student and community experience."
Nelson's early conceptual design renderings show families walking and bicycling along a manicured streetscape on 26th Street, with a modern, upscale hotel on one side of the street and the apartment building and urban-style row homes on the other.
"We are excited to bring our considerable experience in developing hotels across the Midwest, as well as build on our downtown apartment experience, by bringing a dynamic mixed-use project to the front door of Drake University," said Mike Nelson, president and owner of Nelson Construction & Development. "This location is ideal for the three mixed use projects that we have envisioned, directly across from Old Main and the nexus of campus. Throughout the spring and summer we will begin engaging with the neighborhood, designing these projects, and look forward to announcing the timeline for each project in the fall."
The project complements construction efforts that are well underway on the north side of campus. The $52 million STEM@DRAKE project adds two new buildings to campus, both of which are expected to open in fall 2017. The buildings will be home to labs, classrooms, collaborative spaces, offices, and other features related to several of Drake's science programs, as well as the Drake University School of Education and the Robert D. and Billie Ray Center.