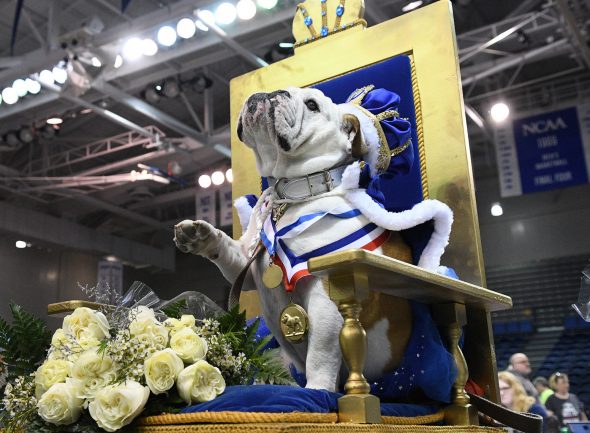 The throne was hers the moment she walked into the room, her blue tutu shimmering around her waist and diamond necklace sparkling. Prudence, a two and-a-half year old English bulldog owned by Angela and Tom Miller of Des Moines, is the winner of this year's 38th annual Beautiful Bulldog Contest at Drake University.
Drake University Student Body President Thalia Anguiano, one of four judges, was immediately smitten. "I thought, 'Wow, there's a gorgeous bulldog,'" she said. "Then I had a chance to pet her during the first round of judging, and there's just something about her face: She's the most beautiful bulldog ever."
More than 1,200 spectators packed into the Knapp Center and another 4,000 people watched live online as 38 bulldogs from 10 states competed for the illustrious cape, crown, and throne, and the title of official bulldog mascot for the 2017 Drake Relays. Contestants wore characteristically compelling costumes: they came dressed as punk rockers, nurses, gentlemen, police officers, Boy Scouts, Batman, and even Audrey Hepburn. Prudence's sparkly attire complemented her most engaging feature: her eyes.
"Her full name is Prudence Grace With The Precious Face, because when she looks at you with her big brown eyes, you just can't resist her," Miller said.
Prudence is an energetic but sweet bulldog who greets everyone with a gentle enthusiasm. Her favorite things—besides mom and dad and her 10-year-old French Bulldog sister, Ringo—are cookies, cuddling in the chair, and playing and watching basketball. She was accompanied by a boisterous cheering section, a running club known as Fleet Feet Des Moines.  She's no stranger to the running trails, her favorite being the path around Grey's Lake in Des Moines, where she loves to meet other animals while riding in her stroller.
"Overall, she's just gorgeous," said contest judge Sandy Hatfield Clubb, Drake's director of athletics. "She's spunky and beautiful with a fun personality, and you can tell she has a great relationship with her owners."
Judges issued eight other awards during the contest, including:
Family Theme: Beef, owned by Emily Mettenburg of Ames, Iowa
Drake Spirit and Porterhouse People's Choice:  Sweet Sassy Molassey, owned by Janalyn Phillips of Waukee, Iowa
Rescue Dog Recognition: Max, owned by Katrina Shain of Sullivan, Ill.
Mr. Congeniality: Clyde, owned by Stephanie Prescott of Ankeny, Iowa
Best Dressed: Maude, owned by Mike Poll of Algonquin, Ill.
Second Runner Up: Brutus, owned by Joe Fields of Grimes, Iowa
First Runner Up:  Lola, owned by Katie Mooney of Mercer Island, Wash.
Drake's official live mascot, Griff, hosted a "Griff Gives Back" pet food drive in conjunction with the contest. Contest spectators and supporters of the university  donated more than 5,100 pounds of adult dog and cat food, all of which supports The Pet Project Midwest, a nonprofit organization that raises works to keep animals in their homes and out of shelters.