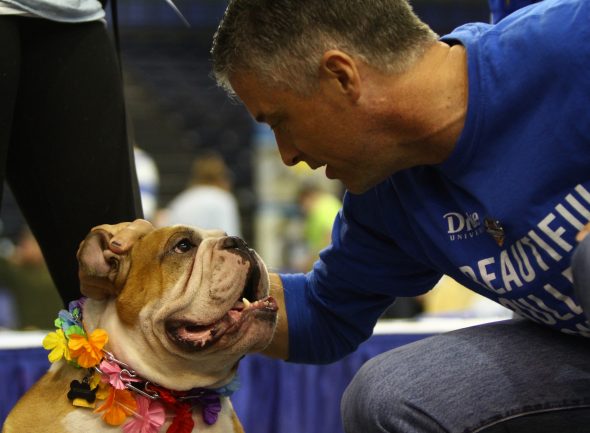 The Drake Relays presented by Hy-Vee officially kicks off this weekend with the world-famous, 38th annual Beautiful Bulldog Contest® at Drake University. From a record-setting field of more than 120 English bulldogs, 40 canines have been chosen to compete in this year's contest, scheduled for Sunday, April 23.
38th Annual Beautiful Bulldog Contest
Sunday, April 23
The Knapp Center, 2525 Forest Ave.
Rescue dog festival at noon
Pageant at 1 p.m.
Free and open to the public. Watch online at facebook.com/drakeuniversity.
Competitors are travelling from 10 U.S. states to compete in the pageant, which begins at 1 p.m. and is preceded by a rescue dog festival at noon in the Drake University Knapp Center, 2525 Forest Ave. Admission is free; the contest will also be streamed live on Facebook at www.facebook.com/drakeuniversity.
The winner will be crowned world's Most Beautiful Bulldog and named mascot for the 2017 Drake Relays; awards will be given in a total of nine categories. Attendees are encouraged to bring donations of adult dog and cat food for the "Griff Gives Back" pet food drive, led by Drake's official live mascot, Griff, to benefit Pet Project Midwest.
The Contestants
Last year, a rags-to-royalty story unfolded as 60-pound rescue bulldog Vincent donned the Most Beautiful Bulldog crown. The scrappy canine had been found wandering the streets of West Des Moines in fall 2015 with no place to call home, and had found a forever family just three months prior to the April 2016 contest.
This year's esteemed judges—Drake University President Marty Martin, Student Body President Thalia Anguiano, Director of Athletics Sandy Hatfield Clubb, and WHO-TV News Anchor Andy Fales—will have their hands full choosing a winner. Several contestants have remarkable stories to tell:
Lola, owned by Katie Mooney of Mercer Island, Wash., will travel 1,800 miles to compete. After the long journey, Lola still promises to have enough "smiles, kisses, and licks to go around."
Minnie was originally intended by her breeder to be a show dog, but she was too stubborn for pageants. West Des Moines native Heather Parrino adopted Minnie for her sweet personality, which she hopes will win over the judges at the Beautiful Bulldog Contest (where American Kennel Club rules famously do not apply).
Sasha is afraid of aluminum foil, plastic bags, and laundry baskets. Owner Aaron Anderson of Mason City hopes Sasha can overcome her fears and win the judges' hearts with a passion for attention.
Princess Fergie Petsche was eight months old when her mother adopted her. Now, at eight years old, she doesn't get around as quickly as she used to. She has overcome many hardships, including ACL surgery on both of her back legs. But owner Jennifer Petsche of Cedar Rapids says, "she has been the light in my life…she has made me a better person."
Deliylah Destiny Drake is a veteran contender with a family legacy of success in the Beautiful Bulldog Contest. She competed in 2013 and 2014, missing the contest in 2015 because she gave birth to puppies on the day of the contest. She returned in 2016 with all four of her pups; her daughter, Daffodil, was chosen as runner-up. Owner Tressa Yeggy of Des Moines wonders: Could this be Deliylah's year?
Rescue Organizations
Notably, nine rescue bulldogs are part of the pack hoping for the contest's signature throne, cape and crown. Thirteen organizations will participate in the rescue dog festival prior to the pageant, including nine rescue organizations; Friends of Companion Animals, an organization advancing the responsible treatment of animals; The Fence Project Des Moines, which improves the outdoor living habitats of dogs in Greater Des Moines; the Bulldog Club of Central Iowa; and The Pet Project Midwest. Attendees are invited to donate canned or dry adult dog food at a pet food drive to benefit The Pet Project Midwest.
More information
For more information, visit https://alumni.drake.edu/BeautifulBulldog or the newly launched contest Facebook page, www.facebook.com/beautifulbulldog.
Media Credentials
Members of the news media are asked to RSVP to Aaron Jaco, aaron.jaco@drake.edu, by 5 p.m. Friday, April 21. Press passes will be issued to credentialed journalists upon arrival to the event.