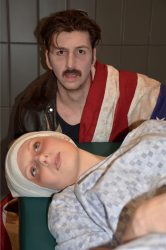 Sam Shepard's A Lie of the Mind is the emotionally raw drama coming to the Drake University Theatre Arts Department from March 30 to April 2.
Directed by Associate Professor of Theatre Arts John Graham, A Lie of the Mind tells the story of two families connected by marriage but fractured by the disturbing tensions of reality. Performances will start at 7:30 p.m. Friday, March 30, and Sunday, April 1, and at 2 p.m. Sunday, April 2, in the Performing Arts Hall of the Harmon Fine Arts Center.
Tickets are available at the Fine Arts Box Office in the South Lobby of the Fine Arts Center as well as online. Admission is $8 for adults and $6 for students and senior citizens. More information is available at 515-271-3841.
"It's beautiful, it's intense," Graham said of the play. "Sam Shepard's language is unlike any other American playwright."
The play's intensity is present from the very beginning, especially in regards to the leading man, Jake, portrayed by senior acting and public relations double-major Jasen Emamian.
"Sam Shepard does an amazing job with power in his texts that makes you question your initial thoughts on characters and relationships," Emamian said. "He dives so deep into the trouble within these characters hearts and minds, and into their relationships… There's no black and white as to who's a good person and who isn't."
This production deals with the topic of domestic abuse. Emamian has had to navigate portraying a character who perpetrates this abuse.
"Honestly, playing someone like Jake is so different for me," Emamian said. "Jake, while he is progressive and strong, there's a child-like brain inside him. He's a shell of a human who has reverted back to being a 6-year-old. And I think that's such an interesting to way to delve into why this person acts the way he does."
Senior theatre major Marissa Schuster, playing the role of Lorraine, explained that the heart of this story is about the raw and often harsh reality of human emotion found in everyday life.
"People should realize that these characters are real," Schuster said. "Their struggles are ones that other people on Drake's campus have to struggle with—death, violence, love—those are all things we deal with on a daily basis. This show just highlights what human life is about."
To go along with the themes of the show, the cast will be collecting donations for the Children & Families of Iowa, a nonprofit organization dedicated to improving the lives of children and families throughout Iowa. CFI provides services, such as: domestic violence prevention and intervention, teen programs, family support, early childhood development, mental health and substance abuse. To learn more visit: http://cfiowa.org/.