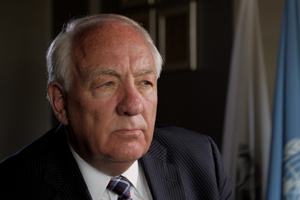 Ambassador Stephen Rapp will deliver a lecture titled "In Pursuit of International Criminal Justice" on April 6, 11:30 a.m.-12:30 p.m., in Cartwright Hall, Room 201. The event is free and open to the public.
Rapp, a 1974 alumnus of Drake University Law School, served as United States Ambassador-at-Large for Global Criminal Justice from 2009 to 2015.
In this role, he coordinated U.S. government support to international criminal tribunals, including the International Criminal Court, as well as hybrid and national courts responsible for prosecuting persons charged with genocide, war crimes, and crimes against humanity.
During his tenure, Rapp traveled to 87 countries to engage with victims, civil society organizations, prosecutors, and leaders of governments and international bodies to further efforts to bring the perpetrators of mass atrocities to justice.
He also served as a prosecutor for the Special Court for Sierra Leone, where he led the prosecution of former Liberian President Charles Taylor and others for serious violations during the Sierra Leone civil war. His office achieved the first convictions in history for sexual slavery and forced marriage as crimes against humanity, as well as for attacks on peacekeepers and the recruitment and use of child soldiers as violations of international humanitarian law.
From 2001 to 2007, Rapp served as senior trial attorney and chief of prosecutions at the International Criminal Tribunal for Rwanda, where he led the trial team that achieved the first-ever convictions of leaders of the mass media for the crime of direct and public incitement to commit genocide.
In addition, he was the United States Attorney for the Northern District of Iowa from 1993 to 2001.
Rapp is currently a Distinguished Fellow at The Hague Institute for Global Justice and the United States Holocaust Memorial Museum's Center for Prevention of Genocide.
This event is approved for 1.0 CLE hour (Activity ID Number: 257569).