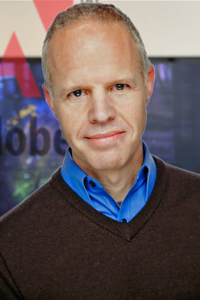 When Phillip Maroc, LW'92, was in law school, he worked with Professor James Albert to create the Corporate Counsel Law Society, a student group that gave Drake Law students exposure to working in the corporate environment.
Today Maroc is using that experience as senior legal counsel at Adobe Systems Inc., a multinational computer software company headquartered in San Jose, Calif., that has created well-known products such as Photoshop, InDesign, Acrobat, and the common PDF.
"It's a fantastic, dynamic environment," Maroc says. "Working closely with creative and energized people, working with new technology—it's exciting."
An Indiana native, Maroc graduated from Indiana University Bloomington before securing a job in Des Moines selling equipment to law firms. That piqued his interest in pursuing a legal career, and he enrolled at Drake Law School.
"I didn't apply anywhere else; that was the law school I wanted to go to. I had a terrific experience at Drake," says Maroc, who later named his son Drake.
After earning his law degree, Maroc returned to his home state and found a job at a law firm in Indianapolis, where he met his wife. Shortly after getting married, she got a promotion in California, and—despite the fact that Maroc had never been to the west coast—the couple moved to San Jose.
"I took a chance," he explains. "But once I was out here, I saw I had an opportunity to grow my career and do something different."
Maroc was hired in-house at a software company and immediately knew it was a perfect fit. He was finally working in a corporate setting, just as he had talked about with other Drake Law students in the Corporate Counsel Law Society.
Over his career, Maroc has worked in legal departments at technology companies in Silicon Valley including Synopsys, TIBCO Software, and Nuance Communications before joining Adobe in 2011.
In his current position, he manages the licensing of Adobe's software, including drafting agreements and negotiating transactions for multi-million dollar arrangements. With more than 15,000 employees worldwide, Maroc says the best part of his job at Adobe is getting to interact with different types of professionals in departments ranging from engineering to marketing to finance.
"I develop working relationships with many people throughout the company who aren't lawyers. These people are very good at what they do, and it's invigorating to get to work with them on a daily basis," Maroc says. "I'm just a piece of the broader picture that we're all trying to accomplish, and everyone works together to make it happen."
Maroc says there are many advantages to working in a corporate environment, and he encourages law students to explore their interests and pursue different career paths.
"There are so many opportunities that you would never imagine if you only thought of lawyers as what you see in courtrooms on television," he says.