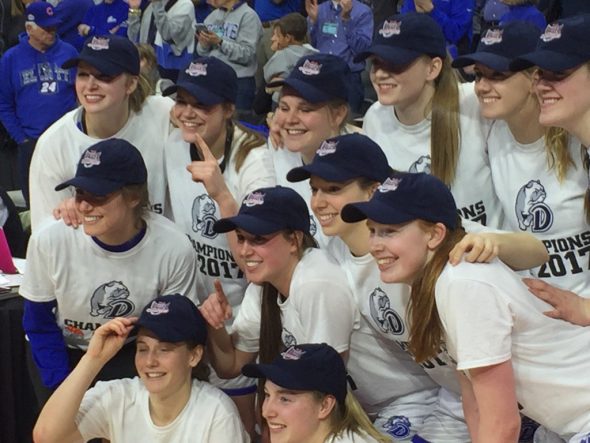 As a data analytics professor explains, the odds of picking a perfect men's bracket are astronomical. Meanwhile, in the women's tournament, at least one choice is clear—Bulldogs all the way.
This year, like millions of Americans, Associate Professor of Computer Science Eric Manley will complete his bracket for the NCAA men's basketball tournament.
But even as a professional number cruncher—a faculty member in Drake's new data analytics program—he's not holding his breath for a perfect bracket. Neither should you: The odds of correctly predicting the outcome of all 63 tournament games based on a coin flip is something like 1 in 9.2 quintillion.
If you're savvy enough to pick No. 1 seeds over No. 16 seeds, the odds improve to one in a trillion.
"Nobody could tell you what 1 in a trillion even means," Manley says. "We don't have a frame of reference for counting a trillion things."
Still, if you want to outperform your colleagues in the office, Manley has a couple of tips:
Pick lower seeds over higher seeds.
Compare the offensive and defensive efficiency of each team—how often they score per possession, and how often they're scored upon—while factoring in the strength of each team's schedule.
Still, there's a human element that even advanced statisticians can't overcome, particularly for match-ups between closely ranked teams.
"The level of parity between the teams," he said, "is what makes it difficult."
While the NCAA men's tournament is a toss-up, every true Drake fan ought to have locked in their pick for women's tournament champ: The Drake Bulldogs Women's Basketball team is headed to the big dance for the first time since 2007, hot off a perfect 22-0 conference season which they finished as MVC Tournament champions.
The Bulldogs are holding a Selection Show Watch Party at 6 p.m. Monday, March 13, in the Courtside Club of Shivers Basketball Practice Facility. Complimentary refreshments will be provided as the Bulldogs and their fans watch their tournament opponent and site announced live on ESPN.
Read more about the Drake women's epic season at GoDrakeBulldogs.com — and good luck on your bracket picks.
We're not worthy.

But @DrakeWBB's Caitlin Ingle is of #SCTop10 & #NCAATop10 nods after this EOR buzzer-beater. pic.twitter.com/c9mIfE2cUY

— #SelectionMonday (@ncaawbb) March 13, 2017