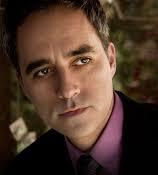 Alexander Djordjevic, instructor at the Music Institute of Chicago, will present the final concert of the season for Drake University's Keys to Excellence Piano Series. The free concert is at 7:30 p.m. Monday, March 20, in Sheslow Auditorium, 2507 University Ave., featuring the following selections:
Metamorphosis Two
by Philip Glass
Fantasia in D Minor KV. 397
by W. A. Mozart
Sonata in F minor, Op. 57
by Ludwig van Beethoven
Ballade No. 1 in G minor, Op. 23
by Frederic Chopin
In festo transfigurationis Domini nostril
Jesu Christi, S.188
Impromptu ('Nocturne'), S.191
Funérailles (Harmonies poetiques et religieuses, No. 7)
by Franz Liszt
Polonaise Op. 53 "Heroic"
by Frederic Chopin
Djordjevic will also present a public masterclass at 2 p.m. Sunday, March 19, in Sheslow Auditorium. Both the concert and masterclass are free and open to the public; no tickets are required.
Djordjevic is known for his "formidable talent and technique," "profound poetic sensitivity" and "elegant, expressive, yet powerful and electrifying playing." The Washington Post characterized him as "a constant infusion of original insight."
Born in Chicago, Djordjevic began his piano studies at age three and made his debut as concerto soloist with orchestra at age twelve. As a Fulbright Scholar, Alexander Djordjevic furthered his piano studies with Russian pianist Vitaly Margulis at the Hochschule für Musik in Freiburg, Germany, where he was awarded the Aufbaustudium Diploma "With Distinction." He also holds bachelor's and master's degrees in Piano Performance and Literature from the University of Illinois. His teachers have included Vitaly Margulis, Ann Schein, Joel Shapiro, Gustavo Romero, William Heiles, Gellert Modos, Sally Bauer.
Djordjevic is recognized for his stirring performances of the late works of Franz Liszt. His CD, Gray Clouds: Piano Music of Franz Liszt, was the 2010 winner of the Hungarian Liszt Society's 35th Annual Franz Liszt International Grand Prix du Disque. He follows an esteemed list of notable pianists who have received this honor for their Liszt recordings including Vladimir Horowitz, Claudio Arrau, Alfred Brendel and Andre Watts.
In addition to winning numerous piano competitions and performing throughout the Unites States and Europe, Alexander Djordjevic has released two CDs: Gray Clouds: Piano Music of Franz Liszt (2009); and Alexander Djordjevic Plays Scarlatti – Beethoven – Chopin – Rachmaninov – Liebermann (2000).
Mr. Djordjevic has taught piano students of all ages for over 25 years. He is on the piano faculty of the Music Institute of Chicago, the College of DuPage, and maintains his own private studio in the Chicago area. He is a member of the Illinois State Music Teachers Association, Music Teachers National Association, serves on the executive board as the Membership Secretary of the American Liszt Society and is the President of the Chicago chapter of that organization.
The Keys to Excellence Piano Series was created to raise awareness of Drake's fundraising efforts for the purpose of 70 brand new Yamaha pianos for the music department. It brings internationally acclaimed artists to perform on the Yamaha CFX concert grand at Drake University.
The series is supported by Yamaha, West Music, Civic Music Association, and Drake University. For more information, contact Nicholas Roth at 515-321-5947 or nicholas.roth@drake.edu
—
KEYS TO EXCELLENCE PIANO SERIES 2016-17:
OCTOBER 24: Lori Sims – Western Michigan University
NOVEMBER 14: Jeff Brown – Western Illinois University
NOVEMBER 28: Nicholas Roth – Drake University
JANUARY 23: Quentin Kim – Pusan National University (South Korea)
MARCH 6: Alan Chow – Northwestern University
MARCH 20: Alexander Djordjevic – Music Institute of Chicago
All performances begin at 7:30 p.m. in Sheslow Auditorium  and are free and open to the public.