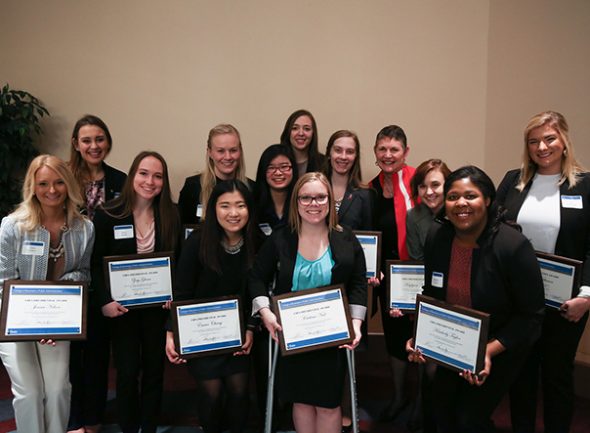 Students in the College of Business and Public Administration (CBPA) met with faculty, staff, and community leaders last week to celebrate and support the role of women in leadership.
The Women's Leadership Breakfast was held Friday, Feb. 24, in Levitt Hall in Old Main. An invitation-only list of 50 students, 17 female community professionals, and 21 Drake faculty and staff members were in attendance.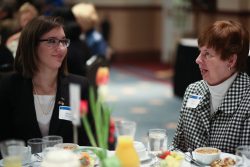 "The Women's Leadership Breakfast is my favorite annual event that the CBPA hosts," Drake senior Eunice Chang said. "It allows students to meet and network with influential and accomplished women in the Des Moines metro. From my first year at Drake to my senior year, I've been so inspired by all the students and working women in the community. Above all, I've learned how important it is to constantly encourage women and always strive for equality in all areas of life, particularly the workplace. "
The college issued awards to 12 female presidents of student organizations within the college. They also heard a keynote address from Terri Vaughan, dean of the Drake CBPA, who received the CBPA Women's Impact Award following her remarks.
The Drake student honorees were:
Eunice Chang – American Marketing Association, Senior Marketing major from Pewaukee, Wisconsin.
Zoey Glenn – Drake Actuarial Student Society, Sophomore Actuarial Science and Data Analytics from Boone, Iowa.
Whitney Hanson – Phi Chi Theta, Senior Economics and International Business major from Apple Valley, Minnesota.
Amanda Khoo – Entrepreneurial Council, Senior International Business and Finance major from Penang, Malaysia.
Kate McCoy – Gamma Iota Sigma, Actuarial Science and Data Analytics major from Sioux Falls, South Dakota
Kristina Neel – Delta Sigma Pi, Senior Computer Science and Information Systems major from St. Louis, Missouri.
Jenna Nelson – Alpha Kappa Psi, Senior Marketing and Information Systems major from Fairfield, Iowa.
Kaylynn Noethlich – Alliance, Senior Economics and Marketing major from Doland, South Dakota.
Emily Petrowski – Alpha Kappa Psi, Junior Marketing and Public Relations Double major from Park Ridge, Illinois
Emily Spillane – Ambassadors Club, Junior Marketing major and Data Analytics minor from Galena, Illinois.
Kimberly Taylor – Women in Business, Senior Marketing major from Wood Dale, Illinois.
Ava Witthauer – CBPA Student Senator, Junior Marketing and Psychology major and Spanish minor from Shoreview, Minnesota.
Vaughan received the Women's Impact Award for outstanding contributions and accomplishments that enhance her status as a role model to women professionals.
In her keynote speech titled "Variety is the spice of life," Vaughan drew on her accomplished career in the insurance industry—for which she was recognized by Best's Review in 2016 as was one 24 key industry influencers—to share five leadership lessons for women.
From 2009 to 2012, Vaughan was the CEO of the National Association of Insurance Commissioners, with roles on the Executive Committee of the IAIS and the steering committing for the U.S./E.U. Insurance Dialogue Project. In 2012, she chaired the Joint Forum, a Basel, Switzerland-based group of banking, insurance, and securities supervisors. Prior to joining the NAIC, Dr. Vaughan spent time in both academia, as the Robb B. Kelley Distinguished Professor of Insurance and Actuarial Science at Drake University, and in regulation, as Iowa Insurance Commissioner and NAIC President.
"The Women's Leadership Breakfast has always been an event I look forward to each spring because the speakers are nothing short of exceptional," said Drake senior Kaylynn Noethlich. "However, this year I believe was the best by far and Dean Vaughan provided great advice, encouragement, and reassurance as we prepare to take the next step after graduation."