Drake University is proud to present Robert Chen, concertmaster of the Chicago Symphony Orchestra, as the next artist in the Jordan Concert Series. The concert will be held at 7:30 p.m. Friday, March 3, in Sheslow Auditorium and is free and open to the public. Chen will be accompanied by pianist Stephen Prutsman. The program will include Ludwig van Beethoven's Sonata No. 10 in G Major, Maurice Ravel's Tzigane, Johannes Brahms' Sonata No. 3 in d minor, and several short works by Fritz Kreisler.
About Robert Chen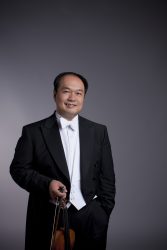 Robert Chen has been concertmaster of the Chicago Symphony Orchestra since 1999. During his years as the CSO concertmaster, he has been featured as soloist with Riccardo Muti, Daniel Barenboim, Pierre Boulez, Bernard Haitink, Christoph Eschenbach, Charles Dutoit, Ton Koopman, Osmo Vänskä, Vasily Petrenko, Nicholas Kraemer and James Conlon. He gave the CSO premiere of György Ligeti's Violin Concerto, Elliott Carter's Violin Concerto, and Witold Lutoslawski's Chain Two, as well as the world premiere of Augusta Read Thomas's Astral Canticle.
In addition to his duties as concertmaster, Chen enjoys a solo career that include performances with the Los Angeles Philharmonic, Swedish Radio Orchestra, Moscow Philharmonic, New Japan Philharmonic, NDR Orchestra of Hanover, Asia Philharmonic and the Bournemouth Symphony, collaborating with conductors such as Myung-Whun Chung, Esa-Pekka Salonen, Manfred Honeck, Pavel Kogan and Andreas Delfs.
An avid chamber musician, Chen has performed with Daniel Barenboim, Itzhak Perlman, Pinchas Zukerman, Yo-Yo Ma, Lang Lang, Christoph Eschenbach, Myung-Whun Chung, Emanuel Ax, Mitsuko Uchida, Lynn Harrell, and János Starker. A frequent participant at numerous festivals including the Aspen Music Festival, Santa Fe Music Festival, La Jolla Chamber Music Festival, and the Schloss Moritzburg Festival, he also has toured extensively with Musicians from Marlboro and is a founding member of the Johannes Quartet.
Prior to joining the CSO, Robert Chen won first prize in the Hanover International Violin Competition. As part of that prize, he recorded Tchaikovsky's complete violin works for the Berlin Klassics label.
A native of Taiwan, Robert Chen began his violin studies at the age of seven. He continued his studies with Robert Lipsett when he and his family moved to Los Angeles in 1979. While in Los Angeles, he participated in Jascha Heifetz's master classes. Chen received both Bachelor's and Master's degrees in music from the Juilliard School, where he was a student of Dorothy DeLay and Masao Kawasaki.
About Stephen Prutsman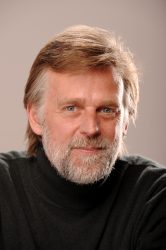 Active as classical, world and jazz pianist, composer and festival curator, Stephen Prutsman continues to explore and seek common ground in music of all cultures and languages. As a young man he performed with several art rock bands and was a regular on a nationally syndicated gospel television show. (He also won "The Gong Show" in 1976). In the 1990s, Prutsman was a medal winner at the Tchaikovsky and Queen Elisabeth Competitions. He was artistic partner with the St. Paul Chamber Orchestra and artistic director of the Cartagena International Music Festival. As a composer his music has been performed throughout the world by leading known classical and popular. Passionate for causes related to the needs of the developmentally disabled, Prutsman co-founded the non-profit organization "Autism Fun Bay Area" which creates "Azure" events: Artistic and recreational environments for people on the autism spectrum and their families. These now occur regularly in many parts of the world.
About the Jordan Concert Series
The Jordan Concert Series is named in honor of Alice and Frank B. Jordan, a prominent couple in Drake's history. Alice (Yost) Jordan graduated from Drake University in 1938 and married Dr. Frank B. Jordan, a long-time professor of music and former dean of Drake University's College of Fine Arts.
Alice Jordan published more than 250 choral and organ works during a lengthy career as composer; several of her works were performed during international concerts, as well as at a White House concert. She was active in the Des Moines community, serving on the boards of the Des Moines Symphony Association, the Des Moines Women's Club, the Drake Alumnae Association and as president of the Des Moines Civic Music Association. She received an honorary Doctor of Fine Arts degree from Drake in 2006 and was inducted into the Iowa Women's Hall of Fame in 2002.
The Jordans founded the Jordan Concert Series in 1992 with instructions for the series to begin upon the death of the last surviving partner, which turned out to be Alice, who died in 2012. The Jordan Concert performance will take place on their namesake venue, the Jordan Stage of Sheslow Auditorium.
For more information contact Nicholas Roth, professor of piano, at nicholas.roth@drake.edu or 515-271-2857